BOE's Broadbent Sees Argument for Looking Through Price Shocks
by and
Bank of England Deputy Governor gives speech in London

Officials should look through factors pushing down inflation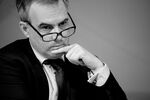 The economic outlook is a better guide for future policy than the Bank of England's projections for growth and inflation, contrary to the approach typically taken by most commentators, Deputy Governor for Monetary Policy Ben Broadbent said.
In a speech less than two weeks after the central bank's new quarterly forecasts were scoured for clues on the timing of an interest-rate increase, Broadbent said the projections were "far from perfect" as a guide. The pound rose against the dollar as he delivered his speech at Reuters in London. He also said the Monetary Policy Committee should look through temporary factors pushing down inflation and take a flexible approach toward returning consumer-price growth to its target.
"The behavior of the economy matters more for interest rates than prior forecasts," Broadbent said. The MPC's central forecast isn't "a failsafe indicator of future changes in interest rates," he said.
The BOE held its benchmark interest rate at a record low of 0.5 percent on Nov. 5, as it weighed domestic strength against inflation below zero and a slowing world economy. Its latest forecasts, published alongside the decision and based on investor bets that rate increases wouldn't begin until early 2017, were taken as a signal that low rates were needed for a while longer.
Rate Bets
Back then, forward contracts based on the sterling overnight index average, or Sonia, indicated that a full quarter-point boost to the official bank rate wouldn't come until November next year. On Wednesday, they showed a 25 basis-point increase in 2017.
Investors shouldn't put too much emphasis on the market curve, which is often influenced by other factors, and should forecast the economy themselves if they want a clear guide of where policy is headed, Broadbent said.
"We've seen a solid recovery in domestic demand, in both consumption and investment, against a backdrop of weaker global growth," Broadbent said. "That global picture is important because recently our single biggest trading partner, the euro zone, has grown. At the same time, the U.S. recovery is not that strong."
"Output now looks much closer to potential" than in the period from 2009-2012, he said, and slack in the economy is "projected to narrow further."
Forecast Emphasis
The pound rose as much as 0.2 percent after the comments were published and was at $1.5219 at 11:24 a.m. London time, little changed from Tuesday.
Economists look at the BOE's quarterly forecasts for clues on the policy outlook, particularly whether the central bank predicts inflation will be above or below the 2 percent goal in two and three years' time. If it's exceeding the target, investors see that as a sign that rates will need to rise, and if it's lower, a sign that officials feel less pressure to increase borrowing costs in the near term.
Broadbent said interest-rate forwards reflect many variables, such as appetite for risk, and aren't a precise indicator of future policy. While officials can't give promises about when rates will change, that hasn't stopped the media reporting it as such, he said.
"I've long felt that coverage -- not just of the last Inflation Report, but of lots of things we communicate -- tends to slip sometimes, into a territory of what we say is unconditional promises," he said. "I do think that some of the coverage, which essentially, some went along with 'Bank says interest rates won't go up until X,' was just misplaced."
An additional problem is the fact that the yield curve is "currently very flat," Broadbent said. "As a result, even relatively moderate changes in forward rates, prompted by unexceptional news about the economy, can result in big shifts in the date at which the yield curve first reaches some particular level."
Yield Curve
"Too often, it seems to me, what we communicate about the path of future policy, whether that's direct or something backed out from forecasts, is treated as something close to an unconditional promise," he said. "If an inflation forecast conditioned on the yield curve ends up away from target, that doesn't necessarily mean we 'disagree with the market.'"
However, the forecasts "do carry some information," he said. In the case of the November projections, when the MPC saw price growth above target at two years before drifting higher, Broadbent said "if only at the margin, that yield curve was thought likely to overachieve."
Before it's here, it's on the Bloomberg Terminal.
LEARN MORE