Blackstone's James Says U.S. May Enter Recession in 2017
by and
Industrial sector in recession, Blackstone president says

Paris attacks will hit tourism, may shift Merkel's stance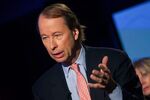 The U.S. may enter a recession within two years, Blackstone Group LP President Tony James said, as he outlined challenges to economic growth.
"It wouldn't surprise me if we had one in 2017," James said Wednesday at Bank of America Corp.'s banking and financial services conference in New York. "I'm turning more pessimistic now. There are a lot of headwinds facing us right now."
James, who leads New York-based Blackstone with Chief Executive Officer Steve Schwarzman, said most of the industrial sector, excluding aerospace and automotive companies, is already in recession, and he expects no growth in earnings in the Standard & Poor's 500 index of large U.S. companies this year. He also cited factors such as financial strain on consumers, while saying wage growth is one positive sign.
U.S. gross domestic product grew at a 1.5 percent annual rate in the third quarter, compared with the 1.6 percent median forecast of economists surveyed by Bloomberg. Excluding the biggest swing in inventories in four years, the pace of growth was 3 percent, compared with 3.9 percent in the previous three months.
James joins Carlyle Group LP co-founder David Rubenstein in foreseeing a U.S. recession in the next several years. Rubenstein said in a Bloomberg Television interview last month that while he doesn't see direct signs of an impending recession right now, he expects one by 2018 based on historical economic cycles.
A rise in interest rates won't have a major impact on the economy or on markets, said James. Rates, which have been "too low for too long," have ceased to spur growth, he said, and may even have hurt employment because they can encourage companies to invest more in operations than in labor.
China, Europe
Around the world, James doesn't see many "engines for growth." China's economy is probably expanding at less than 5 percent -- slower than the country says it's growing -- and while Europe's economy has bottomed, its recovery will be slow, he said.
The Nov. 13 terrorist attacks in Paris will affect France and the surrounding region, hitting retail spending and tourism, James said. The event also puts pressure on the strength of the European Union, he said, because German Chancellor Angela Merkel may move back to the political right and weaken her support of Greece's economy.
Blackstone is the world's biggest manager of alternative assets, overseeing $334 billion in private equity holdings, real estate, credit assets and hedge funds. Schwarzman, who started the company in 1985 with Peter G. Peterson, hired James in 2002.
Before it's here, it's on the Bloomberg Terminal.
LEARN MORE