Billionaire Agarwal's Vedanta to Cut Costs 25% Amid Worst Slump
By , , and
Commodity prices could drop 5% to 7% further, he says

Company generating enough cash, better placed on paying debt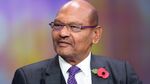 Vedanta Resources Plc, India's biggest producer of aluminum, copper and zinc, plans to cut costs by as much as 25 percent as it battles a global slump that sank industrial metal prices to a six-year low, Chairman Anil Agarwal said.
The London-listed mining company will "tighten" capital spending and "do whatever is necessary" by way of innovation to help boost profit margins, he said in an interview in the northern Indian city of Jaipur on Wednesday. The prices of the three metals have dropped at least 27 percent in the past year as the latest factory output data from China, the world's biggest consumer, signaled the rout is deepening.
"This is the worst I've ever seen," said billionaire Agarwal, 61, . "We have to reinvent ourselves to cut costs, bring more efficiency. The fittest will survive and we believe we are the lowest cost quartile in the industry."
Apart from retreating prices, Vedanta has also been slammed by environmental regulations in India. Its inability to mine enough bauxite has forced its aluminum smelters to operate below capacity, while courts have limited the amount of iron ore it can mine. Shares of the company have dropped 49 percent in the past year in London, compared with the 35 percent decline in the Bloomberg World Mining Index.
Chile's Codelco
Unlike Glencore Plc, which is cutting output to weather the slump, Vedanta's Agarwal said he would like to increase aluminum production if he could get bauxite. The head of Chile's Codelco, the world's biggest copper miner, said this week he would rather rein in costs than curb production.
Three-month aluminum prices on the London Metal Exchange have slid 27 percent in the past year, while copper tumbled 31 percent and zinc 33 percent. Global iron ore prices have slumped at a time when Vedanta ships out its first cargo from Goa after a mining ban was lifted in the state.
Vedanta and units, with a net debt of $7.5 billion as of Sept. 30, are better placed among peers, Agarwal said. The company had $12 billion of debt due till fiscal year 2019, of which $5.2 billion is due in the next two years, according to a company filing. It had cash of $8.9 billion as of Sept. 30, according to data compiled by Bloomberg.
Enough Cash
"Whatever is due we are very comfortable to pay next year," he said. "Refinancing is not a priority. We are generating enough cash to pay our debt."
Industrial metals have continued to retreat as data show China's economy is expanding at the slowest pace in a quarter of a century. While Glencore has lost $45 billion in market value this year, Codelco this week slashed the premium it charges Chinese buyers by 26 percent, the most since the global financial crisis.
To counter supplies from China, India is considering doubling import duty on aluminum to as much as 10 percent, a government official said in New Delhi on Thursday. Shares of Vedanta Ltd. jumped 2.8 percent to 91.65 rupees in Mumbai, while those of the parent rose 2 percent to 405.50 pence in London, the biggest gain in three weeks.
Commodity prices have room to drop 5 percent to 7 percent further, Agarwal said.
"But, there could be an upside of 30 percent to 40 percent as no new resource has been opened in the world," he said. "China has not reduced consumption and India is growing at double digits."
Potash Reserves
Agarwal said Vedanta is interested in potash reserves in Rajasthan and would participate in auctions for the reserves. Last month, the company said its unit Hindustan Zinc Ltd. will set up a 500,000 tons-a-year di-ammonium phosphate plant in Udaipur at an estimated cost of 13.5 billion rupees. 
"Potash is a very big game," he said. "There should also be interest from some of the large global companies if the policies are good."
Vedanta is also awaiting India's response to its bid to buy out the residual state stakes in Hindustan Zinc Ltd. and Bharat Aluminium Co. Ltd. as it would allow access to cash reserves of its units along with their lead and zinc mines.
"We have been waiting for three years," he said. "The government has said that they are divesting Hindustan Zinc. I am as much aware as you are."
Hindustan Zinc, in which Vedanta Ltd. owns about 65 percent, had cash of 346 billion rupees ($5.2 billion) in its balance sheet as of Sept. 30 and no debt, according to data compiled by Bloomberg. India holds about 30 percent valued at 180 billion rupees. Vedanta Ltd., which also owns 51 percent of aluminum producer Bharat Aluminium, is seeking to purchase the rest from the government.