The Doomsday Ideology of Islamic State's Leader
by , , and
France escalates air campaign in Raqqa after Paris attacks

Baghdadi's propaganda says fighting will lead to apocalypse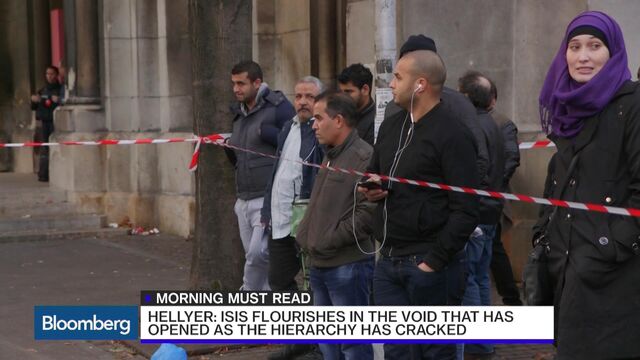 Ever since Islamic State leader Abu Bakr al-Baghdadi put on a black robe and turban to ascend a mosque pulpit in Iraq and proclaim to rule over the world's 1.6 billion Muslims last year, he's surrounded himself by symbols of doomsday. 
In addition to his attire, he named the group's English-language magazine after the Syrian town where some Sunni tradition says Islam's Armageddon is supposed to happen. Many of his foreign fighters were lured to the self-declared caliphate in Syria and Iraq by the promise of a ringside seat for the end of the world. 
As the attacks in Paris unite world powers to hit back at Islamic State and reverse its territorial expansion, they also play into that more apocalyptic narrative of the jihadist group and its leader. The slaying of at least 129 people by militants linked to the group, bombings in Beirut and Ankara and the downing of a Russian plane over Egypt show Baghdadi inciting the kind of response that would escalate his war.
"The attacks all work within a strategy of provocation," said Charlie Winter, who studies Islamic State propaganda and was recently appointed as a senior research associate at Georgia State University.  "They also lend it credibility as a jihadist organization."           
---
Paris Attacks: Full Coverage

"We are in a war against jihadist terrorism which is threatening the whole world" President Francois Hollande
---
Bombing Raqqa
The extremists said the massacre in France was "only the beginning of the storm" and the coalition against them now looks broader and more determined.
Russia and the U.S., previously at cross purposes over Syria's civil war, are showing signs of responding to French President Francois Hollande's call for a united front as he steps up a bombing campaign against the group's de facto capital of Raqqa in eastern Syria. At least 33 Islamic State fighters have been killed in three days in the airstrikes, according to the U.K.-based Syrian Observatory for Human Rights.
"It may want to build a caliphate, but it may also be just fine trying to trigger an apocalyptic war between civilizations," said Shadi Hamid, senior fellow at the Brookings Institution's Center for Middle East Policy. 
Mosque's Messi
Under Baghdadi's leadership, Islamic State sought to acquire all the trappings of a functional state based in Raqqa, even minting its own coins. Using a slick propaganda machine to help build its brand while funded from extortion and illegal oil, it eclipsed al-Qaeda to turn into the richest and most brutal of terrorist groups. 
Unlike the self-publicity of al-Qaeda leader Osama bin Laden, relatively little is known about Baghdadi, whose real name is Ibrahim Awad Ibrahim al-Badri. 

He was born into a pious family in the Iraqi city of Samarra in 1971. Neighbors remember him as a shy teenager, according to a profile by William McCants, author of "The ISIS Apocalypse: The History, Strategy and Doomsday Vision of the Islamic State." When he wasn't in school, he was praying or studying the Koran, earning him the nickname "The Believer."
At a mosque football club, where Baghdadi was the star, he later became known as "our Messi," after former world player of the year Lionel Messi of Argentina and Barcelona. Teammates recall he often lost his temper when he failed to score, McCants says.
The Caliph
After the U.S.-led 2003 invasion of Iraq, Baghdadi helped found an insurgent group and spent time in the American-run detention facility Camp Bucca in southern Iraq. He then joined an al-Qaeda-led umbrella organization of Sunni jihadist groups that went through several incarnations before morphing into Islamic State.
While consolidating his position within the group, Baghdadi pursued a doctorate in religious studies. Islamic State unveiled him as "Caliph Ibrahim" in June 2014 after its fighters swept through northern Iraq and raised their black banners over Mosul.
While skillful at welding together a group from different factions, the question is whether he can meet meet the expectations of his followers, said Matthew Levitt, director of the counter terrorism program at the Washington Institute for Near East Policy. 
"Whenever you have an apocalyptic type cult in any religion, the more time that passes without fulfilling the prophecies, the more evident it becomes that the prophecies aren't going to happen," said Levitt.
Baghdadi is reported to wear a mask in the company of anyone who's not part of a select group of devotees. The appearance at the mosque in Mosul has so far also been his only one. That day, his black turban invoked the image of some Abbasidi rulers who prophesied the world's end as they seized power in eighth-century Baghdad.
"There's an attractiveness to a certain type of person, to this way of saying 'hey, let's go fulfill this, it's our time now,"' said Scott Stewart, vice president of tactical analysis at Stratfor based in Austin, Texas. "That apocalypticism has a lot of appeal."
Before it's here, it's on the Bloomberg Terminal.
LEARN MORE