Aberdeen CEO Rules Out Sale as Emerging Market Sentiment Shifts
by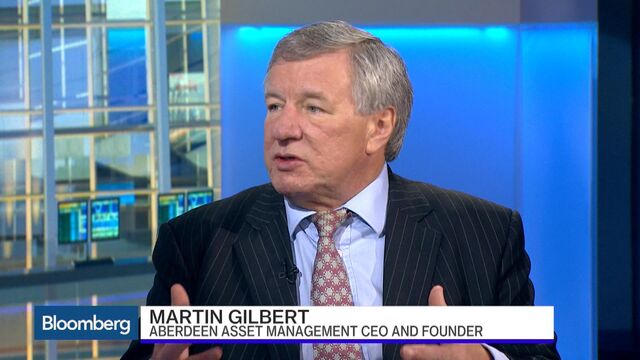 Aberdeen Asset Management Plc Chief Executive Officer Martin Gilbert said he has "ruled" out selling the business and that sentiment toward emerging markets is starting to improve. The shares climbed.
"We don't want to be sold," Gilbert said in an interview on Bloomberg Television in New York on Wednesday. "It's a great advantage being an independent asset manager. Emerging markets will come back. Asia will come back."
There has seen a "slight change" in sentiment toward emerging markets, with U.S. institutions starting to buy more of the asset class, Gilbert said. The shares climbed as much as 2.5 percent and were up 1.5 percent at 336.4 pence at 3:37 p.m. in London.
Aberdeen shares have lost more than 1 billion pounds in market value this year as the firm grapples with two years of outflows from its emerging markets funds. The CEO told Bloomberg in September that he had seen no let up in redemptions since the firm reported 9.9 billion pounds of net outflows in the three months through June.
"Overseas institutions have stuck to the asset class and are adding a bit more," Gilbert said in Wednesday's interview. "We haven't seen any retail or European interest. As a big asset manager, we don't have the option of selling out of emerging markets."
The firm is always looking to trim costs and any job cuts at Aberdeen will be mostly related to the firm's acquisition of Scottish Widows Investment Partnership from Lloyds Banking Group Plc last year, Gilbert said. There are no plans to cut investment jobs at the asset manager, he added.
Before it's here, it's on the Bloomberg Terminal.
LEARN MORE