Why a Billionaire CEO Takes Life Lessons From a Samurai
By and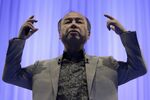 Billionaire Masayoshi Son has been celebrating the birthday of someone dear to him — the maverick samurai who inspired him to drop out of high school.
The chief executive of SoftBank Group Corp.  traveled to Kochi, a provincial capital on the smallest of Japan's major islands and the birthplace of Sakamoto Ryoma, a 19th century samurai much loved in Japan, but little-known elsewhere, who helped modernize the nation's government and economy. About 1,000 people gathered to mark the occasion.
"Ryoma was the starting point in my life," Japan's second-richest man told a crowd in front of the Sakamoto Ryoma Memorial Museum, a 70-meter-long glass rectangle jutting toward the Pacific Ocean. "Standing here now, next to his statue, I still feel like such an insignificant man. It's a reminder that we must always aim higher."

Son said his life was changed when, at 15, he read a book about Ryoma, whose cosmopolitan worldview inspired Son to leave high school a year later to travel to the U.S. He has reread the book several times since: at the time of SoftBank's founding, during a three-year bout of serious illness and when he bought the Japanese unit of Vodafone Group Plc, going billions of dollars into debt.
Son and his hero have a few things in common. Both were once young men of humble beginnings and great ambition who took on the establishment.
Ryoma, born the son of a low-ranking samurai in 1835, played a key role in ending Japan's 300-year isolation as part of the movement to overthrow the Tokugawa shogunate. He is credited with establishing the nation's first trading company and helping Japan to become a naval power. He was murdered at age 33 by still-unknown assassins loyal to the shogun.
A century later, Son was born to a Korean immigrant family. He made his first $1 million from a multilingual electronic translator he invented while studying at the University of California at Berkeley and used the proceeds to import Space Invader game machines to the U.S., before returning to Japan to found SoftBank.
Son, 58, has transformed the company from a PC software distributor to one of Japan's largest carriers, with investments ranging from Sprint Corp. in the U.S. and China's Alibaba Group Holding Ltd. to startups in India. SoftBank's logo, two silver horizontal bars, is based on Ryoma's flag.
Ryoma's fans also include former Prime Minister Naoto Kan and countless business executives. His image is used to sell everything from keychains and beer to business advice books and TV dramas.
Part of Ryoma's appeal is that he was an accomplished swordsman as well as an intellectual. In one black-and-white photo, Ryoma is wearing a baggy kimono with a short Japanese sword, a wakizashi, tucked into the waistband. He is holding a revolver, which he allegedly used to escape an assassination attempt.
Despite his ubiquity in Japanese popular culture — he even has an asteroid named after him — Ryoma is largely unknown to overseas audiences more familiar with samurai archetypes from the feudal period he helped end.
"It takes a character like Ryoma to make a worthy conversation partner for a man of such great ambition," said Yukie Maeda, the museum's curator. "Leaders often face those lonely moments of decision making. It makes sense to put yourself in Ryoma's place and ask: what would Ryoma do?"
As part of the birthday festivities in Kochi, Son held the bronze hand of Ryoma's statue to create the first link in a human chain stretching 500 meters (about a third of a mile) to the shore, where another likeness stands gazing across the Pacific.
"In my office, there is a life-size photo of Ryoma," Son said at the event. "Every morning when I come to work, it reminds me to make a decision worthy of Ryoma."