Weakened Hollande Faces Election Backlash in Wake of Attacks
by and
Polls Show Socialist Rout in Next Month's Regional Vote

Demonstrations Banned After Last Week's Coordinated Assault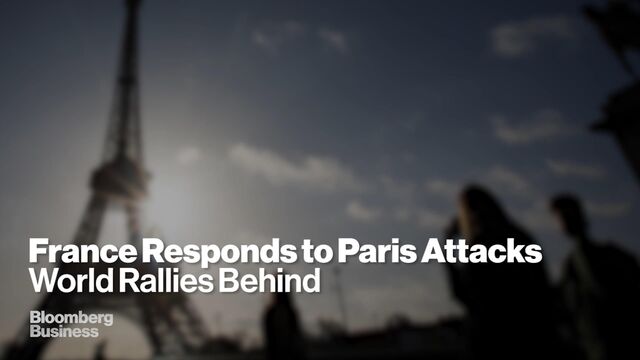 Five days after terrorist attacks in January, the largest crowd in French history -- more than 3.7 million -- turned out for rallies across the country. A legion of world leaders joined the Paris march to consecrate the nation's worst such violence in more than half a century, declaring "Je Suis Charlie."
"Paris is the capital of the world," President Francois Hollande said then.
Following coordinated assaults by Islamic State last week that killed at least 129 people in Paris, mass demonstrations were banned and an impromptu gathering descended into a near-riot when a few firecrackers went off.
For Hollande, a figure of unity 10 months ago, the failure to stop the attacks may have inflicted a mortal wound on a leader weakened by record joblessness and a mounting threat from Marine Le Pen's populist National Front party. The backlash could hit in December elections for 13 regional assemblies. Polls show Hollande's Socialists losing all but two or three and the National Front winning one -- perhaps, two -- for the first time.
"This is obviously a nightmare for any president," said Emmanuel Riviere, pollster at TNS Sofres in Paris.
No 'Zero Risk'
Hollande's government is warning that even after the killing spree there may be more terrorism to come. Prime Minister Manuel Valls says the "zero-risk situation doesn't exist."
In a speech to a rare joint session of lawmakers Monday afternoon, Hollande declared himself a wartime president. The 36-minute address began with a short sentence: "France is at war." He vowed to increase spending on security, disregarding European Union budget rules, limit constitutional protections and win the fight against Islamic terrorism.
"Hollande wants to show that this time he hasn't underestimated the threat and that he will respond with appropriately unlimited measures," said Gerard Grunberg, a senior researcher at the Paris Institute for Political Sciences.
Hollande's approval rating slumped to 13 percent in September last year. After the January attacks, it climbed as high as 23 percent, before resuming a slide that left the rating at 15 percent earlier this month, according to TNS Sofres.
"The situation is extremely volatile," said Sylvain Brouard, a researcher at the Paris political-science institute. "Any more attacks could be fatal to him."
Calls by Hollande's Interior Minister Bernard Cazeneuve to weaken the Schengen system that allows the free movement of people and goods in much of Europe echo Le Pen's demands.
Le Pen, who was criticized in January when she quibbled with Hollande's response, gave a relatively measured response to the latest attacks, while diving straight for the open border issue.
As with the crowd of global chiefs who joined him on Jan. 11 after the killing spree at Charlie Hebdo magazine and a kosher grocery, Hollande gets another chance at the role of statesman when leaders come to Paris for a summit on climate change on Nov. 30.
"This attack is not Charlie," Grunberg said. "Hollande now faces the challenge to find the right answers to fight that war. It will be tough."
Before it's here, it's on the Bloomberg Terminal.
LEARN MORE