VW's European Market Share Slips as Diesel Scandal Hits Demand
by
Industrywide sales rise 2.7% while Volkswagen's decline 0.8%

VW brand increased discounting on cars in Germany in October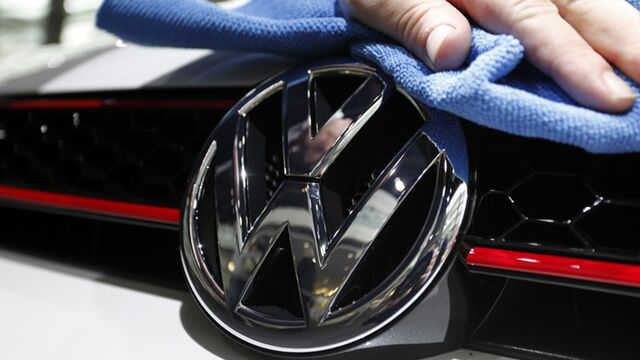 Volkswagen AG lost market share in Europe as sales declined in the first full month since the carmaker's emissions-cheating scandal became public.
The German manufacturer accounted for 25.2 percent of new-car registrations in the region in October compared with 26.1 percent a year earlier, the Brussels-based European Automobile Manufacturers' Association, or ACEA, said Tuesday. Volkswagen sold 0.8 percent fewer cars in Europe last month, the company's first drop in the region since May, contributing to a slowdown in the market.
Even before Volkswagen's rigging of diesel-engine emissions tests came to light in mid-September, the Wolfsburg-based company was losing ground to competitors that offered a wider range of sport utility vehicles. VW managed to keep its market share from narrowing further by deepening discounts.
"VW's sales have been fairly weak all year," said Juergen Pieper, a Frankfurt-based analyst with Bankhaus Metzler. "The additional impact from the diesel scandal has been relatively small."
German Discounts
Volkswagen, which has also found irregularities in carbon-dioxide emissions, is seeking to get the widening scandal under control. The company, which has put non-essential investments under review, estimates the crisis will lead to a burden of more than 8.7 billion euros ($9.3 billion) in repair costs and damages for false carbon-dioxide labels.
The shares, which have fallen 39 percent since the scandal became public on Sept. 18, rose as much as 2.6 percent to 99.97 euros and were up 1.7 percent at 12:36 p.m. in Frankfurt.
The carmaker's dealers in Germany, Europe's biggest auto market, offered customers an average 11.2 percent off the sticker price, 1.6 percentage points more than in the previous month, according to trade publication Autohaus PulsSchlag. That contributed to an industrywide incentive increase to 12.2 percent from 11.8 percent a year earlier.
Discounting by Volkswagen has intensified in November, and the company "seems to be aggressively targeting corporate buyers in an effort to counter the diesel scandal," Ferdinand Dudenhoeffer and Karsten Neuberger of the Center for Automotive Research at the University of Duisburg-Essen said in a report this month.
Daimler, BMW Gains
VW's struggles run counter to industrywide growth in Europe. Carmakers' registrations across the region rose 2.7 percent to 1.14 million autos, according to the ACEA. The gain was less than the 9.8 percent marketwide jump in September.
Among the top 10 sellers in the region, the biggest growth came from Daimler AG, whose 21 percent jump was propelled by demand more than tripling at the Smart city-car nameplate; luxury-car producer BMW AG, which reported a 13 percent increase; and Italian-U.S. automaker Fiat Chrysler Automobiles NV, which sold 7.7 percent more vehicles amid a 70 percent surge at its SUV-focused Jeep brand.
October was the 26th consecutive month of auto-sales growth, according to the ACEA, which compiles numbers from 27 of the 28 European Union countries as well as Switzerland, Norway and Iceland. Four of Europe's five biggest car markets expanded, with gains of 1.1 percent in Germany, 1 percent in France, 8.6 percent in Italy and 5.2 percent in Spain. Sales in the U.K., which ranks second in the region, fell 1.1 percent in October.
Diesel Recalls
Volkswagen's 10-month market share narrowed 0.4 percentage point to 25 percent as the group's 6.5 percent sales growth in the period lagged behind the industrywide 8.2 percent expansion. In addition to the VW brand, the manufacturer builds luxury Porsche and Audi models and mass-market Skoda and Seat vehicles.
VW wasn't alone in posting a decline. PSA Peugeot Citroen, Europe's second-biggest car manufacturer, sold 1.5 percent fewer cars, and third-place Renault SA also posted a group registration decline. The French manufacturers rely heavily on demand for diesel vehicles.
To fix a line of diesel engines fitted with software that falsified nitrogen-oxide emissions performance during regulatory tests, Volkswagen outlined plans in October to recall 8.5 million cars in Europe, out of a total 11 million affected worldwide. Since then, Volkswagen has revealed inconsistencies in carbon-dioxide readings in another 800,000 vehicles, including some fueled by gasoline. Diesel motors power more than half of the passenger cars sold in Europe.
Before it's here, it's on the Bloomberg Terminal.
LEARN MORE