How Much Longer Will Gamers Stand in Line for Blockbuster Video Games?
This holiday season, digital sales may outpace physical ones for the first time. That's good for publishers and bad for GameStop.
by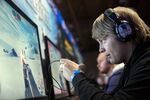 The last blockbuster video-game release of 2015 kicked off at midnight, when Star Wars: Battlefront went on sale. People who had lined up at stores the night before walked out with games wrapped in plastic and ran home to unwrap them and insert them into disc drives. It was positively old-fashioned. 
Increasingly, this isn't how video-game sales work. Mobile games exist only in digital form, PC games are often downloaded, and an increasing proportion of console games are purchased online, rather than at GameStop locations. The exception comes during the holiday period, high season for big-name console games, when people still flock to stores. 2015 is the biggest year yet for the newest generation of consoles, with such titles as Halo 5, Fallout 4, and Call of Duty: Black Ops III bringing in hundreds of millions of dollars in sales. It may also be the first holiday season that digital sales outpace physical sales. 
Last year, digital and physical sales were almost even in the fourth quarter. "So far it looks like digital is going to be bigger," said Joost van Dreunen, chief executive officer of gaming research firm SuperData. It's no longer a surprise when this happens in July, he said, "but if digital is bigger in the fourth quarter, we know something's happening."
In part what is happening is a shift towards mobile devices. The most successful mobile games are made by companies that don't have a business printing games onto physical discs. But the biggest traditional video game publishers are also seeing a shift. The holidays will continue to be a time when the big publishers make far more money from physical than digital sales, but the rest of the year has already turned. In the first three quarters of this year, physical sales for the biggest publishers were lower than in 2014, while digital sales rose. 

Three of the top five publishers now make more money from downloads than from disc sales when they count revenue from full-game downloads and bonus content sold to enhance existing games. None of the publishers break out exact numbers on full-game downloads, but most estimate that about one-fifth of their full game sales are digital. 

They're pretty happy about the change. Digital sales come with higher margins than disc sales. Publishers are also excited to move towards a relationship whereby consumers pay them small amounts of money as they buy updates to the same game for years, rather than dropping $60 once. "Recurrent consumer spending is by definition a higher margin business," Strauss Zelnick, chief executive officer of Take Two, told investors during its most recent earnings call. The company recently raised its outlook for the year.
One company that is less enthusiastic about the shift, of course, is the company that has made its name playing host to these release-day parties. For years GameStop has lived under the cloud of a disc-less future in which its bazaars of used games are no longer needed. So far, the company has fought this off, in part by being one of few chain stores that actively welcomes aimless young men, and in part by doing a brisk business selling codes for digital downloads. 
Publishers both need and resent GameStop. Given that the chain remains the primary place at which people buy physical games, it holds a lot of leverage, publishers privately complain about having to move more slowly towards their digital future than they'd like. A representative for GameStop declined to comment, but the company's executives have acknowledged a willingness to play hardball. When Electronic Arts wanted to offer free downloads of Madden with PS4 and Xboxes, the chain refused to carry them unless the freebie came on a physical disc. "Obviously GameStop's preference is to sell things at full price and provide great value for our trade program, and that we have physical disks," said Tony Bartel, GameStop's chief operating officer, in a call with investors. 
More than other titles, Star Wars may tilt towards physical sales. While connoisseurs have tended to embrace Fallout 4, and hardcore gamers gravitate to shooter games such as Halo or Call of Duty, grandmothers looking to buy holiday gifts are expected to lean toward a game based on a brand name they recognize. "You can totally give people the Steam code in an envelope," said van Dreunen. "But that's not as cool as something you unwrap." 
Before it's here, it's on the Bloomberg Terminal.
LEARN MORE