Shoppers Choose Salons Over Sweaters, Pressuring U.S. Retailers
by , , and
Department stores enter 2015 holiday season with new challenge

Spending is rising, but consumers increasingly seek services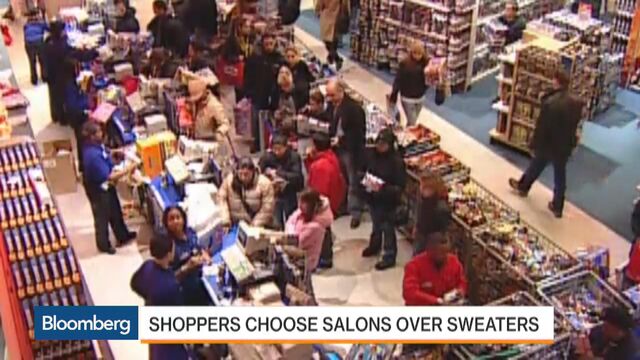 Alia Barksdale says she's changing the way she shops, and that's bad news for department stores and other U.S. retailers.
"I'm doing my nails and hair more this year, things that make me feel good, rather than buying clothes," said the New York resident, who works in film marketing for Sony Pictures. For her 6-year-old, she'll choose a Broadway show. "I'd rather have a shared moment with my daughter that she'll remember than buy her a toy," she said.
Barksdale typifies the challenges retailers are facing heading into the 2015 holiday season. While customers have more disposable income because of higher employment and lower gasoline prices, they're putting that extra money toward savings, restaurants and services like nail salons and gardeners. Younger shoppers in particular are seeking experiences rather than material goods, and many consumers are spending on big-ticket items like cars or home remodeling. 
While spending is rising, consumers are still more cautious than before the recession that ended in 2009, meaning they'll spend on travel or a new coat, but not both. Kathy Grannis Allen, a spokeswoman for the National Retail Federation, calls the dichotomy an "either/or economy."
Slower Pace
The NRF has forecast $630.5 billion in spending during the November-December holiday period, a 3.7 percent increase over last season. That pace is slower than last year, when stronger job growth helped push sales up 4.1 percent, the most since 2011. While the holiday season is always critical for merchants, the stakes are even higher this year after a warm autumn left goods piling up in malls. Slower traffic in shopping centers is putting pressure on Macy's Inc., Nordstrom Inc. and other department stores to break out of a slump.
"It's a really challenging time to be a retailer," said Steve Barr, U.S. retail and consumer-sector leader for consulting firm PwC.
Among those challenges is an inability to capitalize on gasoline prices that are 25 percent lower than a year ago. October retail sales rose just 0.1 percent as consumers squirreled away the fuel savings instead of shopping. When they did spend, it was on items such as restaurants and home construction, among the categories with the strongest growth last month. Foot traffic in retail stores fell 3.7 percent in October from the year-ago period, according to Prodco Analytics. Luxury stores fared worse, with traffic dropping 7.4 percent.
Pent-Up Demand
"There's been a shift," said Jack Kleinhenz, chief economist for the NRF. "Consumers have sort of a pent-up demand for services that they had to put aside during the Great Recession."
For Barksdale, that includes planning vacations, including a possible excursion to Iceland. For Zena White, a flight attendant with British Airways, it means getting her 15-year-old son tickets to soccer matches or concerts he can attend with friends.
After taking a bit of a breather during the previous two months, employers picked up the pace of hiring in October, adding 271,000 workers, the biggest gain this year. Still, that boost may have come too late in the year to make customers willing to increase their discretionary holiday spending, Kleinhenz said.
Earlier Discounts
So far, third-quarter results from major retailers suggest that customers aren't buying enough clothing and gifts.  Macy's said last week that the weather hurt demand for coats, sweaters and boots. The company cut its profit forecast for the year and predicted a very discount-heavy holiday season. Those lackluster results were followed closely by Nordstrom, which posted third-quarter comparable-store sales that missed analysts estimates. The company cut its earnings forecast for the year.
To encourage early shopping and eliminate excess inventory, many retailers have already started offering discounts. Those efforts -- including Target Corp.'s 10 days of deals leading up to Black Friday, the day after Thanksgiving -- might dilute the impact of what is typically one of the busiest shopping days of the year.
Bright Spot
Last year, sales over the holiday weekend fell 11 percent after people did more of their shopping earlier in the month, according to the NRF. While the weekend still accounts for 10 percent to 15 percent of total holiday spending, retailers are cutting back on the rock-bottom discounts in favor of efforts that will bring consumers into stores early and often.
"They're still not shopping as much as retailers want them to," said Jonathan Eyl, lead consumer analyst at Nasdaq Advisory Services
One bright spot is online sales, which are projected to rise between 6 percent and 8 percent in November and December to as much as $105 billion, according to the NRF. While that's good news for total sales, it forces retailers to compete for the lowest price and offer extra deals like free shipping.
When shoppers do purchase online, they're probably not spending as much as they would in a store, said Keith Jelinek, a senior managing director at FTI Consulting.
"Online shopping actually discourages impulse buying," he said.
For parents of young children, buying an experience rather than a product has an added bonus -- getting them away from computers and video screens. White, the flight attendant, said she used to buy her son clothing or technology for Christmas. Not this year.
"I want to give my son events and memories," she said.
Before it's here, it's on the Bloomberg Terminal.
LEARN MORE