Photo illustration: Jeremy Allen/Bloomberg; app: SevenRooms; photo: © Masterfile/Corbis
Restaurants
This Startup Is Spying on You to Help You Get Better Service
The next time you need a table at the hottest restaurant in town, SevenRooms can make (or break) your VIP status.
By
It's a personal dossier Ethan Hunt would envy, a virtual manila folder crammed with intimate intel, from your workplace, home address, relationship status, favorite drink (Negroni on the rocks; Hendrick's, please), and even the last time you got a promotion. This report is no impossible mission, though: It's your profile on SevenRooms, a startup that aims to be the CIA of VIP CRM (customer relationship management), putting the secret in service.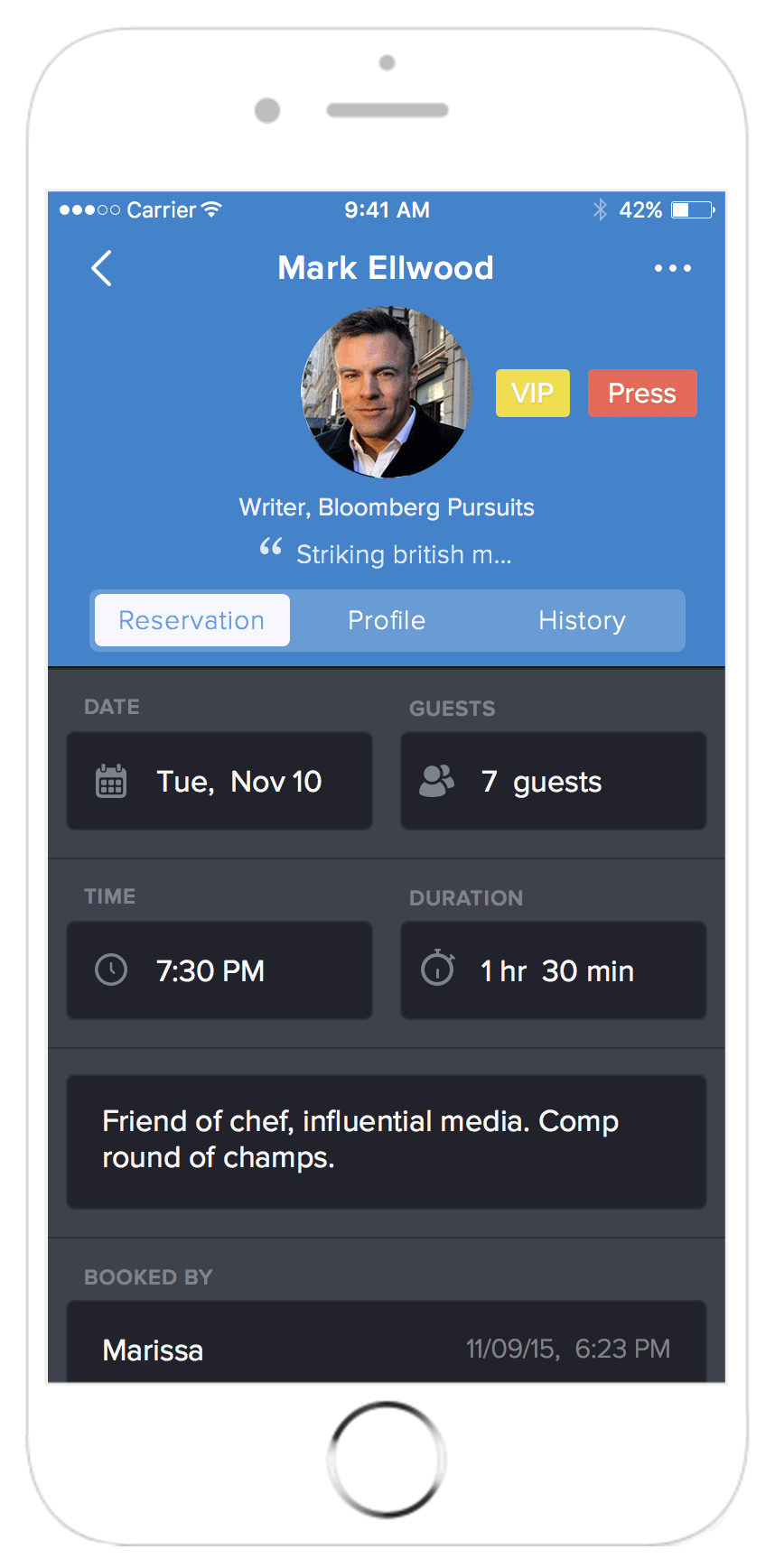 Think of it as a hospitality Intranet, to which bars, restaurants, and clubs can subscribe for $250 to $1,000 a month per location. Unlike with OpenTable or Resy, which pass along little beyond basic customer data or number of previous visits, when a venue employs SevenRooms it uses the e-mail and/or phone number collected during a booking to compile a concise profile of would-be guests, with data scraped from Google and publicly available social media like LinkedIn and Facebook.
The SevenRooms profiles are then linked to a venue's point-of-sale (POS) systems, updating details on your food or drink orders in real time; staff can also add private notes. The longer the service remains in place, the richer—and more useful—the profile becomes to each different venue.
The goal is to become the ultimate digital maitre d' or doorman, discreetly remembering everything about everyone. Hometown listed as Dallas? The waitress can commiserate about the Mavericks. Birthday in three days? She can bring a glass of Champagne unsolicited. Show up with 10 friends for a two-top, with a hedge fund in your job title? SevenRooms acts as a safeguard that no (potential) VIPs are turned away. And if, according to private notes, your regular dining companion is blond, a waiter will know to feign forgetfulness if you're spotted one evening out with an unfamiliar brunette.
Profiles can also be sorted in various ways. For example, on a busy night, clients with addresses and ZIP codes within a certain radius can be prioritized in order to emphasize neighborliness. Or management could set alerts to send a comped dessert to anyone who lives within a few blocks.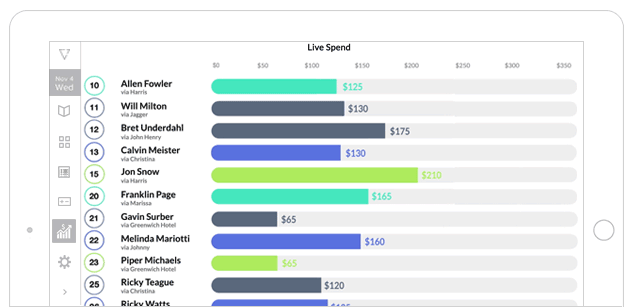 Vegas, Baby
"I'd need five interns in an office, filtering through this and that, to do what SevenRooms does—it's more cost-effective, and lucrative," said Dean Tsakanikas by phone from his New York office. Tsakanikas runs VIP relations for LDV Hospitality, parent company of Scarpetta among others; its invitation-only elite guest program, LDV Lifestyle, is powered by SevenRooms. "We realized we needed some type of database outside of a Google Doc, one that's more user-friendly and up to date," he said, characterizing it as "Facebook meets LinkedIn meets OpenTable, all on one platform. A maitre d' in New York is seeing the same profile as one in California, so they can both see if Mr. Smith has ever dined at one of our restaurants before."

SevenRooms is also used by the Cosmopolitan resort in Las Vegas to manage reservations at its lobby bars and pool cabanas. Speaking by phone from his office on the Strip, Fedor Banuchi, vice president for entertainment, said SevenRooms has been crucial to the resort in two ways. First, it's helped zero in on VIPs, because "when you have a large business, it's very difficult to identify whom your best customers are, since you can't RFID tag them," he said with a laugh. Second, it's significantly reduced the number of chargebacks, in which a manager has to offer something comped as a salve for service snafus.

Cutting the Velvet Rope
The idea for this service came to Chief Executive Officer Joel Montaniel while he was stuck behind his desk, logging 100-plus hours a week, at Credit Suisse several years ago. Its mission, he explained by phone from his office in New York, would be "to make anyone feel like a regular, even when they're not." After all, Montaniel and his friends had funds enough to splash around at New York's hottest venues, but they lacked the time to build the relationships that would snag them must-have reservations. By 2011 he was ready to launch his startup, which has since raised $4.1 million from private and angel investors including David Tisch and Adam Rothenberg's Box Group. Thomas Keller, the four-star restaurateur behind the French Laundry and Per Se, is also an investor.
Admittedly, tracking diners isn't new—it's long been the mark of an impressive maitre d', and some restaurateurs have created their own proprietary systems: Danny Meyer, for example, uses secret codes and three-letter acronyms such as f.t.d. (first-time diner), while Keith McNally follows Standard & Poor's-style credit ratings with fewer than 20 people achieving the most coveted AAA, including Vogue editrix Anna Wintour. SevenRooms, though, automates that process and makes it industrywide, open-source-style.
Micro-Targeting
SevenRooms is capitalizing on two distinct trends, smartly straddling them both. There's a growing niche of restaurant-focused CRM software—PosIQ, for example, co-founded by a former executive vice president of Applebee's—but it's largely aimed at mass-market venues. SevenRooms skews premium and adds a qualitative layer, borrowing the idea of translating online presence into real-world influence from well-known startups like Klout or Kred. (See also: a new service focused on minimizing gate-crashing, Zkipster, which attaches photos to names on guest lists.) 

Some hospitality vets, though, don't rush to embrace an automated system like this one. "Everything this system does, my father did with his own two legs, hands, and sheer will," restaurateur Marco Maccioni, son of Sirio, legendary owner of Le Cirque, said by phone from New York. "This is trying to make a robot human." He recognizes it has valuable applications for larger organizations with high staff churn, but doesn't see how it would work for his own venues. "We had an event for the Warhol Museum last night, and when the guests arrived at the coat-check they didn't need a tag, because our staff knew whose coat was which."
Privacy Concerns
There's also a lingering question about privacy: SevenRooms doesn't offer a feature whereby names can be centrally removed from the database. The company instead suggests contacting venues directly, or adjusting settings on social media to deny its algorithm access.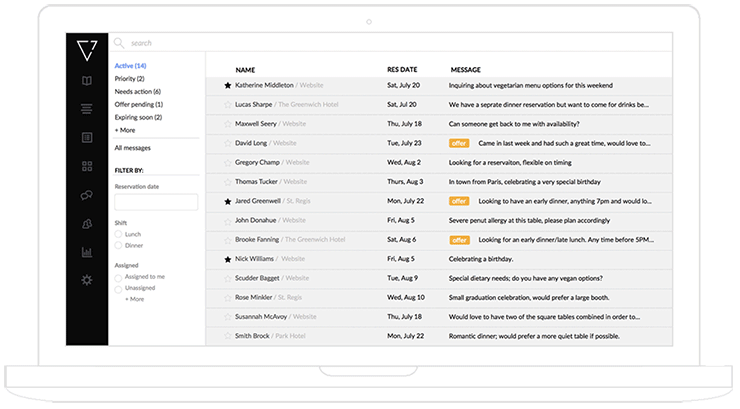 The first question most people will ask, however, isn't how to be removed, but how to shortcut to top-tier status. After all, SevenRooms' eccentric name is a nod to the Vanity Fair editor and social status barometer, Graydon Carter, who once told an errant employee that New York society consisted of seven rooms, each connected by a secret door; most folks, Carter sniffed, will forever remain stuck in room No. 1, like human fetch, condemned never to happen. The right profile on SevenRooms, though, can act as a fast pass to that innermost sanctum.

Montaniel suggests parallels with gaming, where large initial bids make the biggest impression. "Buy a bottle of wine for $300 or more, and you'll make it onto [most] restaurants' VIP list," he said. Make a point of dining a few times on an off night—Monday is good—and you'll more easily score that coveted Saturday-at-8 p.m. two-top. "You've shown support on slower days, and the staff has more time to get to know you." But the best way to reach the seventh room of SevenRooms is surprisingly analog: old-fashioned politeness. Staffers can leave notes and ratings on guests in the profile. "When someone is very nice to a server or the team, that gets tracked, too—and they're more likely to get a reservation," Montaniel said. Sometimes it takes TLC to be a true VIP.
Correction: Updates spelling of Adam Rothenberg's last name.
Before it's here, it's on the Bloomberg Terminal.
LEARN MORE