Rothschilds Tap Chinese Thirst With First Vintage Champagne
by
2006 champagne sells for $350 a bottle versus standard $80

600 bottles of 7,000-bottle production reserved for China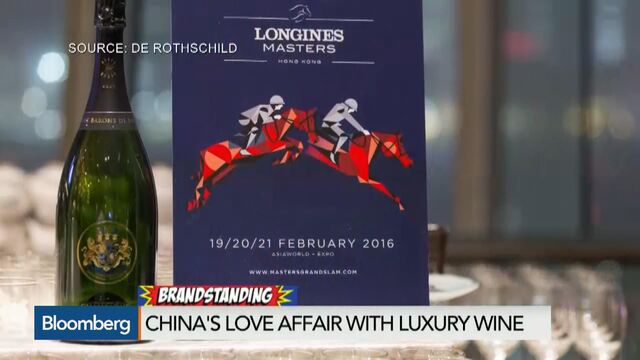 The Rothschild family is betting affluent Chinese will be as keen on its vintage champagne as they are on the finest red Bordeaux wines it produces in France.
No longer are China's nouveaux riches mixing first-growth wines with soft drinks, said Philippe Sereys de Rothschild, chairman of Champagne Barons de Rothschild, which has allocated almost 10 percent of its rare 2006 vintage to the mainland and Hong Kong markets. The palates of Chinese fine drinkers are becoming as sophisticated as anywhere else, he said.

"Those days are far gone," he said in Hong Kong on the last leg of an Asia tour that included Beijing and Shanghai. "The Chinese have become extremely knowledgeable about wines, and they love to drink."
French winemakers have been looking to Asia for growth in recent years as markets elsewhere in the world level off. China has been a boon for top first-growth wines including Mouton Rothschild and Chateau Lafite, both of which are made by branches of the Rothschild family.
A bottle of standard Champagne Barons de Rothschild, which is blended from several different vintages, retails for about $80, while the 2006 vintage, the first single-year champagne the family has released, sells for about $350. Hong Kong and China have been allocated between 500 and 600 bottles of the 7,000 bottles of the 2006 vintage produced, he said.
Exports of champagne to China fell 0.6 percent in 2014 to 1.62 million bottles, according to the Comite Interprofessionnel du Vin de Champagne website, while shipments to Hong Kong increased 0.4 percent to 1.66 million bottles.
Still, Sereys de Rothschild says the Chinese economic slowdown and crackdown on corruption that has hurt luxury sales won't be a factor for the 2006 vintage.
"Because it's the first vintage we have never been linked to corruption, it is all virgin new," he said by telephone. "We have a really small quantity of just 7,000 bottles and this is for connoisseurs. It's not linked to any economic slowdown."
(An earlier version of this story was corrected to say 7,000 bottles.)
(Updates with export figures in 6th paragraph, chairman's quote in 8th.)
Before it's here, it's on the Bloomberg Terminal.
LEARN MORE