Moynihan Says Banks Reinventing Checking to Fend Off Competitors
By and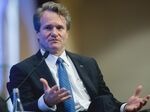 Big U.S. banks are scrambling to offer more technologies and services demanded by consumers, including peer-to-peer payments, so startups don't steal parts of their business, Bank of America Corp. Chief Executive Officer Brian Moynihan said.
"We are redefining what a checking account means in the U.S. right now," Moynihan said Tuesday during an industry conference in New York. "All of these capabilities -- real-time payments, P2P, and all that stuff, this is just going to become core to what the checking account is in the future, and we're going to have to provide that with I don't think any way to get paid for it."
Moynihan said earlier Tuesday that lenders must learn from financial technology startups and closely monitor customer preferences to avoid the fate of other industries being squeezed by new entrants. That includes innovations such as blockchain technology that may ease institutional transactions, retail bank data aggregators and robo-advisers in wealth management.
"If we do it well, it bodes well for our industry," Moynihan said. "If we don't do it well, it may allow part of our industry to be forever taken away from us because it can divorce the payment system away from us."
Peer-to-peer payments allows a person to send money from their bank account to someone else with a few taps on a smartphone. The relatively nascent service is dominated by firms including PayPal Holdings Inc.'s Venmo. Apple Inc. is in negotiations with banks to introduce a peer-to-peer payments feature as soon as next year, a person with knowledge of the talks said last week.