Modi Has Enough Votes to Pass India Sales Tax, Jaitley Says
by
Finance Minister Jaitley says GST can be implemented next year

`We have the numbers on our side' in upper house: Jaitley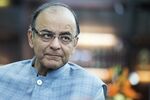 Indian Prime Minister Narendra Modi has the votes to win approval for a goods-and-services tax first proposed in 2006, according to his finance chief.
The tax, one of India's biggest economic reforms in decades, could be rolled out anytime next year after it's approved, Finance Minister Arun Jaitley said in an interview with Bloomberg TV India. Modi's opponents have blocked the measure in the upper house of parliament, known as the Rajya Sabha.
"The day it is discussed and put to vote in Rajya Sabha I have not the least doubt that it will be approved," Jaitley said in the interview in Dubai on Monday evening. "We have numbers on our side." 
The tax will be the main agenda item when parliament reconvenes next week. It's aim is to whittle down more than a dozen state levies to create a single market among India's 1.3 billion people for the first time.
While Modi's defeat in recent Bihar state polls makes it more difficult for him to get control of the opposition-controlled upper house, Jaitley said it wouldn't affect the passage of GST. As a consumer of goods, Bihar stands to benefit from the new destination tax, he said.
Tobacco Boost
Shares of tobacco companies jumped on speculation that the GST would be passed. These companies may benefit because there will be clarity on taxes, K. Subramanyam, co-head of equity advisory at Altamount Capital, said in an interview.
Cigarette maker Godfrey Phillips India Ltd. rose 11 percent to a record in Mumbai, while Golden Tobacco Ltd. jumped 20 percent. The main S&P BSE Sensex Index closed 0.4 percent higher.
Jaitley blamed the main opposition party Congress for "playing hide and seek" over the GST vote. Modi's position in the upper house, where members are appointed by state legislatures, will improve after April, Jaitley said.
Congress has blocked key elements of Modi's economic agenda, including GST and a bill to make it easier to acquire land. Modi this month used executive powers to ease restrictions on foreign direct investment in 15 industries as he sought to lure investors and halt a stock sell-off that threatened to send the rupee to a record low.
GST Opposition
Whether parliament will function smoothly enough for a vote to take place depends on the attitude of the government, said Shakeel Ahmad, a senior leader of the Congress party.  The party will oppose the GST bill if the government doesn't agree to amendments, including capping the rate at 18 percent, he said.
"It's our duty to raise our voice against the misdeeds of the government and its anti-people policies," Ahmad said.
India has set a deadline of April 1, 2016, for nationwide introduction of GST. If the current constitutional amendment allowing the measure is passed, it needs to be ratified by more than half of India's states. Then parliament must pass another bill to implement the GST. The overall rate, which would vary for different goods, would be set by a newly formed GST Council.
"It's a transaction tax which can get into operation as soon as the Constitution allows," Jaitley said. "Once it's put to vote I have all the supporting legislation drafts ready."
Before it's here, it's on the Bloomberg Terminal.
LEARN MORE