Marriott Brand Bonanza With Starwood Purchase Brings Challenges
By
Company will have about 30 hotel brands following acquistion

Sorenson sees `a lot of work to pull these companies together'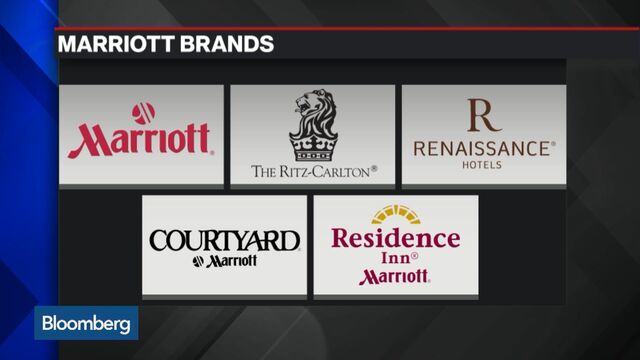 Marriott International Inc.'s purchase of Starwood Hotels & Resorts Worldwide Inc. will give the combined company about 30 hotel brands, double its next-largest competitor, an abundance that presents integration challenges for the biggest operator in a fast-changing industry.
Marriott owns a range of namesake brands as well as Ritz-Carlton, Courtyard, SpringHill Suites and others. Starwood's brands, aside from Sheraton, its largest by room count, include Westin, W, St. Regis and Le Meridien.
"Continuing Starwood's brands is certainly the most cost-effective solution in the short run," Lukas Hartwich, an analyst at Green Street Advisors LLC, said in a research report late Monday. "However, it's fair to question whether it is the optimal long-term decision given the considerable overlap in brands between the two companies. Unless you are in the hotel business, it's hard to know what the difference is between a Marriott, Renaissance, Westin or a Sheraton."
Starwood put itself up for sale after lagging behind Marriott and Hilton Worldwide Holdings Inc. in increasing the number of properties carrying its brands. Marriott must now figure out out to integrate Starwood's rival brands with its own. Le Meridien competes with Marriott's Renaissance, for example, and the Ritz-Carlton luxury chain targets the same customers as Starwood's St. Regis.
Combining Companies
It "would be foolish to underestimate" the challenges involved in combining the two companies' brands, Marriott Chief Executive Officer Arne Sorenson said on a conference call Monday after the $12.2 billion takeover agreement was announced. "There will be a lot of work to pull these companies together, and that work we're going to try and undertake as quickly as we can."
Sorenson said the company plans to keep all of Starwood's flags for now.
"While our thinking is quickly evolving, we expect Starwood brands to remain in place," he said. "We can meaningfully accelerate growth in many of Starwood's brands, particularly in the upscale segment."
Starwood's Sheraton brand, which accounts for almost half of the company's rooms worldwide, is already being revamped. Sheraton is well-regarded in China, which is forecast by the U.S. Travel Association to become the largest source of inbound visitors to the U.S. in four years. About 65 percent of the 1.1 million rooms worldwide that Marriott will have following its takeover of Starwood are in the U.S.
"Sheraton is 43 percent of Starwood's total rooms worldwide, but it has an inconsistent image, especially in North America," said Michael Bellisario, an analyst at Robert W. Baird & Co. "It's viewed very positively by Chinese consumers."
Chinese Travelers
A total of 2.2 million Chinese travelers visited the U.S. last year, up 21 percent from 2013 and the fifth straight year of 10 percent or greater growth in visits, according to the U.S. Travel Association. China is now the fourth-largest source of inbound travel to the U.S., up from 22nd-largest in 2003. The trade group estimates that Chinese visitation to the U.S. will reach 4.9 million people by 2019.
Several Chinese companies were pursuing an offer for Starwood, according to a person with knowledge of the situation.
Sheraton "is a truly global brand, and it has significant strength around the world," Sorenson said. "The challenges are more in the U.S. than they are in the rest of the world."
The "better" hotels may be branded Sheraton Grand while poorer performers might get culled, Sorenson said.
'Very Strong'
The outlook for luxury brands is "very strong," around the world, he said, citing Marriott's Ritz-Carlton, Bulgari and Edition brands and Starwood's Luxury Collection and St. Regis properties.
The combined company will leapfrog current No. 1 Hilton Worldwide, which has about 737,900 rooms worldwide, slightly more than what Marriott has without Starwood. Hilton's 12 brands include its namesake hotels, Waldorf Astoria, Conrad and Hampton.
The hotel industry remains highly fragmented. The combined company will account for about 14 percent of the total hotel rooms in the U.S., and about 7 percent of the rooms worldwide, according to STR Inc., a hotel-industry research firm.
The acquisition is unlikely to face significant antitrust risk because there will still be competition from rival hotels in many cities, according to Jennifer Rie, an analyst with Bloomberg Intelligence. The one exception may be at airports, where there might be less competition today.
Not Material
"At the end of the day, if they have to divest a number of hotels, they will do that, but it's unlikely to be material to the overall transaction," Rie said.
After earlier this year ruling out a purchase of Starwood, Marriott became interested as Starwood's stock weakened and it weighed the competitive advantages of becoming bigger as online travel agents consolidated and Airbnb Inc. became a more significant force in the lodging industry.
"Watching all of that," Sorenson said, "we became more convinced that strategically we could drive better value and compete by being bigger."