Kerry Draws Fire for Saying Charlie Hebdo Attack Had `Rationale'
by
Republican presidential candidates jump on diplomat's gaffe

`Such atrocities can never be rationalized,' Kerry adds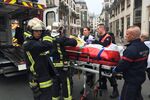 U.S. Secretary of State John Kerry sought Wednesday to quell criticism from Republican presidential candidates after he said last week's terror attacks in Paris lacked the "rationale" of the assault earlier this year on the staff of the satirical French newspaper Charlie Hebdo.
"There are no grounds of history -- religion, ideology, psychology, politics, economic disadvantage, or personal ambition -- that justify the slaughter of unarmed civilians, the bombing of public places or indiscriminate violence toward innocent men, women and children," Kerry told an advisory council at the State Department in Washington. "And such atrocities can never be rationalized, and we can never allow them to be rationalized."
A day earlier at the U.S. embassy in Paris, the top U.S. diplomat wandered into a rhetorical minefield as he attempted to describe the breadth of the latest terrorist killings in the French capital.
"There's something different about what happened from Charlie Hebdo, and I think everybody would feel that," Kerry said in remarks Wednesday to the U.S. embassy staff and their families. "There was a sort of particularized focus and perhaps even a legitimacy in terms of — not a legitimacy, but a rationale that you could attach yourself to somehow and say, 'OK, they're really angry because of this and that."'
Republican presidential candidates immediately seized on the gaffe.
Chris Christie told the Weekly Standard that Kerry's comments were "offensive and truly stupid." The New Jersey governor echoed the criticism in a subsequent interview with Fox News, saying the secretary of state "needs to get some sleep and shut up."
"That's disgraceful for the secretary of state of the United States to stand up and say that there's some rationale for what happened in January," Christie said. "These are the kind of weak, mixed signals that this administration sends that helps to really, you know, make the American people think that there's no one watching the store."
Jeb Bush also mocked Kerry's comments during a campaign stop in South Carolina.
"There should be no empathy," the former Florida governor said. "And there's no rationale for barbaric Islamic terrorists who want to destroy western civilization."
January Attack
Al-Qaeda's affiliate in Yemen claimed credit for the January attack on Charlie Hebdo, which left 12 staff members dead. The terror group said it was in retaliation for the magazine's decision to publish cartoons of the Prophet Muhammad, among other justifications. Visual depictions of Muhammad are seen by many Muslims as sacrilegious.
While millions of French people marched in January to protest the attacks and show national unity, there were debates in the country about whether Charlie Hebdo's cartoons mocking Islam went too far.
Kerry said Friday's attacks across Paris, which killed at least 129 people at a soccer stadium, concert venue, and restaurants, were "absolutely indiscriminate" and not intended to "aggrieve one particular sense of wrong. It was to terrorize people."
John Kirby, a spokesman for the State Department, said in a tweet Monday night that Kerry wasn't offering a justification for the attacks, but rather explaining "how terrorists tried to" justify them.
"As he said at time, it was a cowardly & despicable act," Kirby said on Twitter.
Before it's here, it's on the Bloomberg Terminal.
LEARN MORE