Inside the Belgian Neighborhood at the Center of Terrorist Probes
Molenbeek was home to the suspected mastermind of the Paris attacks – and a place where radicals flourished.
by , , and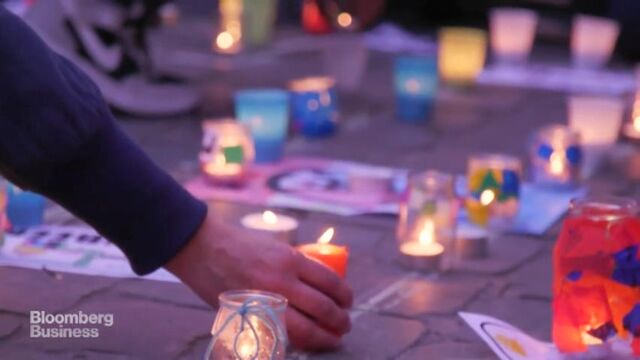 As special forces raided a Brussels home on Monday in search of a fugitive linked to the Paris terror attacks, the men at the El Jaziera cafe two blocks away sat drinking mint tea in silence.
For the residents of Molenbeek's run-down tenement blocks, a short metro ride from the offices of Europe's most senior officials, living among jihadists has become the norm. Behind the facades of the neighborhood's once-grand 19th century houses, radical Islamists, some of them veterans of Syrian battlefields, have plotted murders on a massive scale, Belgian prosecutors say.
One of the Madrid train bombers who killed 191 people in 2004 lived in Molenbeek, as did a Frenchman accused of shooting four people dead at Brussels' Jewish Museum last year. In January, Belgian police killed two men from the neighborhood that they suspected were plotting to assassinate law-enforcement officers. The gunman foiled in his attempt to massacre passengers on a high-speed train between Amsterdam and Paris in August lived in Molenbeek, too.

"For the ones who don't work, they just do whatever -- they don't want to roam the streets but they feel the need to do something,"' said El Jaziera owner Eltaibe Mimoun as he served Moroccan fritters to his all-male clientele, surrounded by Arabic paintings and Champions League soccer pennants.
International attention is focused on Molenbeek again this week because the suspected mastermind of Friday's Paris attacks, Abdelhamid Abaaoud, grew up in the district before joining Islamic State a few years ago. One of the suicide bombers, Brahim Abdeslam, sold his bar in Molenbeek a few months before he blew himself up at a cafe on the Rue Voltaire in Paris, according to French magazine L'Obs.
Monday's raid was part of the hunt for Abdeslam's brother Salah, who police believe was an accomplice to the Paris attacks.
"Almost every single time, there's a link with Molenbeek," Belgian Prime Minister Charles Michel told RTE television Monday. "We need more forceful action."
Michel said he's considering shutting down some of the "problematic mosques" that have taken root among the north African convenience stores, Arabic barbers and halal butchers in Molenbeek, about 20 minutes' walk from downtown Brussels.
Local officials say the Belgian government has been far too slow to wake up to the problems brewing among the neighborhood's immigrant communities where a 40 percent youth unemployment leaves young men vulnerable to the teachings of radical Islam. Belgium's national jobless rate is 8.7 percent.
"Molenbeek would ask about people who had gone to Syria and who had come back, but the federal state didn't care," Deputy Mayor Karim Majoros said in an interview. "It was only a few months ago that they started telling us who those people were in order for us to do social work with the families. The financial resources of the Belgian security services are very scarce."
Interior Minister Jan Jambon told VRT television on Sunday that the government has lost control of the situation, lamenting Brussels's fragmented policing system.
Many Molenbeek families arrived in the 1970s when construction work on the capital's metro system ripped apart what was once a bourgeois neighborhood, driving down rents. North African men immigrated to Belgium to work on the construction projects -- and their families came too. Following them, successive waves of people turned up seeking a foothold in Europe, some of them excluded from Belgian society because they arrived illegally.
From those communities emerged many of the 400 jihadis who left Belgium to fight in Syria, according to the Belgian government.

"If I wasn't as old as I am, I'd leave this place," said Suzanne, a 75-year-old local, who didn't want to give her surname for fear of reprisals. "Nobody trusts each other here. Everything is closed down."
And yet the neighborhood also encapsulates the dilemma facing leaders, like Germany's Angela Merkel, as they try to shore up Europe's commitment to helping the refugees fleeing Islamic State in Syria and Iraq while also keeping people safe.
The Molenbeek community center organized a rally on Wednesday to light 100 candles in memory of the victims of the Paris attacks and show a different side of the district.
"We are very sad for what happened in Paris but people get on with their lives, they go to the shops, they drop their children off at school," said Farah Jadir, 29, dressed in a gray headscarf.
On the sidewalks, men talked in small huddles while women in headscarves bought fruit and vegetables from stores that spilled out onto the street.
"No documents, not a citizen," said the white-painted graffiti on the wall below a grimy railway bridge.
Outside the El Jaziera cafe, Karim Azhaf, a 29-year-old unemployed man, was smoking a fat, hand-rolled, cannabis joint.
"I am very proud to live here," he said. "The terrorists are not from Molenbeek, they are from elsewhere and come here to hide. Life goes on."
With assistance from Helene Fouquet, Julia Verlaine, Caroline Alexander, Aoife White and John Martens.
Before it's here, it's on the Bloomberg Terminal.
LEARN MORE