Investors Look for Clarity on Myanmar From Suu Kyi Government
by
Party's manifesto gives only broad outline of economic plan

Suu Kyi's economic team untested and unkown to investors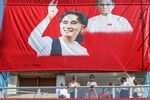 Myanmar's voters last week handed Aung San Suu Kyi's opposition party an overwhelming majority, giving her a free hand to choose the next president and push through favored legislation. Her government's ability to attract the investment needed to spur economic growth, create jobs and boost wages may by the key to rewarding that support.
In the first free elections in a quarter century, Suu Kyi's party secured sweeping control of parliament, gaining about 10 seats to each one held by the current ruling party. But with the Nobel laureate constitutionally barred from the presidency and few details known about her economic plan, investors are looking beyond the landslide to see who might fill key posts and how the military establishment adjusts to the new political landscape.
"Nobody really knows what to expect from her and the new government," said Giulia Zino, a senior analyst for Southeast Asia at Control Risks in Singapore. "It's up to her to show in the next six or seven months that she actually has an economic policy and can bring in enough qualified people to govern."
After languishing under a half century of military rule, opportunities in the country of 52 million people are clear. Positioned between India and China astride maritime trade routes between Europe and East Asia, Myanmar was in British colonial times the world's largest rice exporter -- a title now held by Thailand. Its Southeast Asian neighbor and former enemy attracts almost 10 times as many tourists as Myanmar, where hundreds of kilometers of coastline sit undeveloped.
Investment Surge
Foreign direct investment has surged since the quasi-civilian government began opening Myanmar to the outside world five years ago, jumping about twenty fold to $8.1 billion in the fiscal year ended March. Those inflows helped fuel some of the fastest growth in Southeast Asia with the economy set to expand about 8 percent this year and next.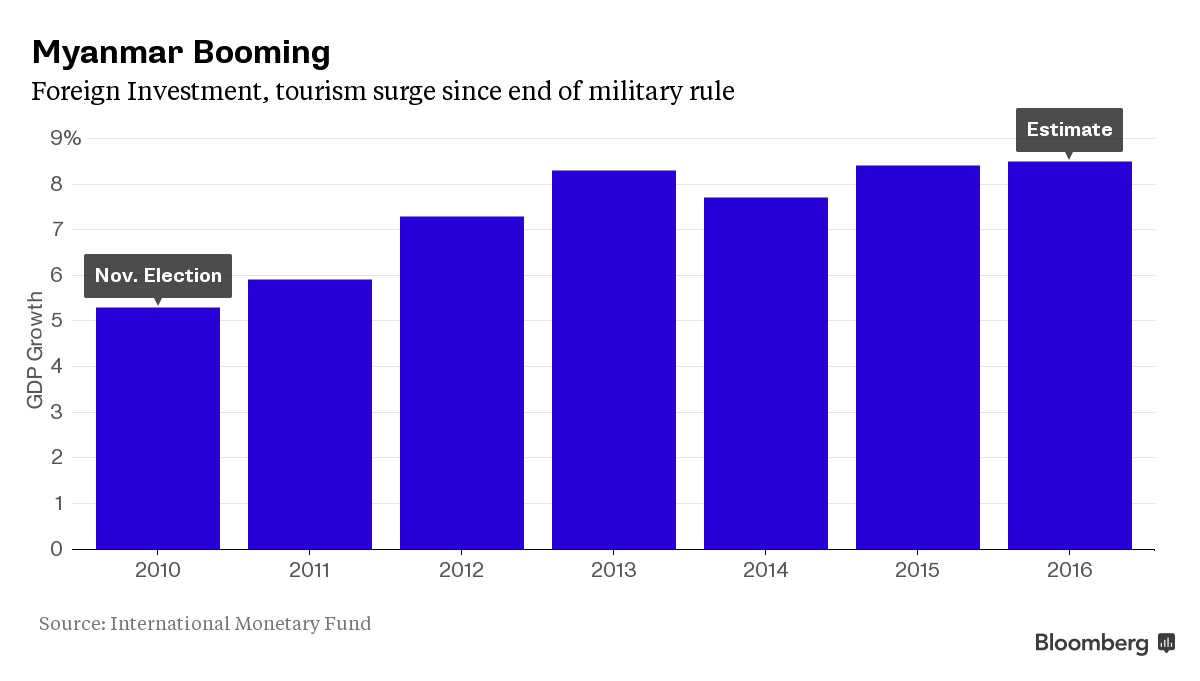 That growth has spurred extraordinary change, though Myanmar remains one of the poorest countries in Southeast Asia with per capita income of just $1,204 last year, less than a fifth of neighboring Thailand. In addition to political uncertainty, investors looking to enter confront widespread corruption, an unskilled labor force and one of the lowest electrification rates in the world, a barrier to everything from infrastructure projects to tourism.
Once in power early next year, Suu Kyi will seek to implement the six-point economic framework in her party's manifesto, which focuses on making public finances more transparent, widening the tax base, giving the central bank independence and building transport, power and communications infrastructure. The document also refers to adopting policies "in line with international norms and standards to increase foreign investment."
'Sober' Program
"The NLD's economic program is a sober one," said Sean Turnell, an associate economics professor at Macquarie University in Sydney who has advised the NLD. "It is very much about an open economy, welcoming foreign investment, an independent central bank, fiscal prudence."
So far the government has indicated it's committed to a smooth transition, unlike in 1990 when the army ignored an NLD election victory, annulled the result and kept Suu Kyi under house arrest for most of the next 20 years. It remains to be seen how the military will react in the longer term if Suu Kyi makes good on her vow to circumvent the constitution by being "above the president." Suu Kyi was barred from the top job by the military-authored 2008 constitution because her children are foreign nationals.
President Thein Sein said Sunday that power will be transferred "systematically to the new government and there should be no worries regarding with this."
Transition 'Encouraging'
"The language that has been used by the existing government and various representatives of the military toward the transition to the new government is also very encouraging," said Petter Furberg, the chief executive of Telenor Myanmar, the unit of the Norwegian company that's investing up to $1 billion building a telephone network to cover the country by 2019.
The election result wouldn't make any difference to the pace of Telenor's investment because "we have been running as fast as we can," Furberg said. Since its license was awarded in February 2014, Telenor has switched on enough mobile-phone towers to cover about 60 percent of the country.
"The elections have been hanging over everything, creating uncertainly about what government would come in, would the elections be free and fair, would there by violence, would the military accept the results?" Furberg said. "Indications that these elections have been successfully conducted should encourage investors, but I think that many investors will wait and see how they form a government and how the transition will go."
Pending Sanctions
Further reforms are still needed, including new laws on investment, mining, intellectual property, condominium ownership and arbitration. Portfolio investors are eagerly awaiting the opening of a new stock exchange and for the nation's bond market to develop, Mark Mobius, chairman of the emerging-markets group at Franklin Templeton Investments, said last month.
Suu Kyi's election may also lead to the lifting of some of the remaining sanctions against the generals are their allies. The start of the democratic process led to the lifting of some sanctions in April 2012, when the U.S. also named an ambassador. The European Union lifted travel restrictions on Myanmar's top leader in January 2012.
The U.S. still maintains a blacklist of people and companies, including some of the biggest holding companies and several banks. U.S. entities investing more that $500,000 in the country must file paperwork every year on issues from human rights to anti-corruption measures.
"All the main tycoons are on that list for one reason or another, and tracing exactly if your prospective partner is related to them or any other dodgy activity is a massive headache for our clients' businesses," said Zino. "I think this is one area were are are going to see some progress" as some names are removed.
Before it's here, it's on the Bloomberg Terminal.
LEARN MORE