France Invokes EU Defense Clause in Anti-Terror Test
by
EU states to send equipment, relieve French on other fronts

NATO plays down France's decision to appeal to EU first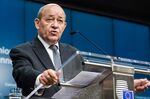 France became the first country to invoke the European Union's mutual-defense clause, testing the bloc's ability to combat terrorism after the attacks in Paris.
France's calling on the 28-nation EU -- and not the more powerful war machine of the U.S.-led NATO alliance -- is politically symbolic but unlikely to reshape the coalition including the U.S. and the U.K. that is already battling the Islamic State.
"It is above all a political act, taken for the first time," French Defense Minister Jean-Yves le Drian told reporters Tuesday at a meeting of his EU counterparts in Brussels.
EU officials said the appeal will lead to the relief of French forces in action on other fronts and to more intelligence-sharing within Europe, but not to the fielding of a European army.
France drew on an EU treaty article in force since 2009, which says that if a country "is the victim of armed aggression on its territory, the other member states shall have toward it an obligation of aid and assistance by all the means in their power."

Neutral Nations
The untested requirement comes with caveats, however. It spares historically neutral countries such as Ireland or Sweden from going on to a war footing, and can be superseded by commitments to the North Atlantic Treaty Organization by the 22 EU countries in that alliance.
NATO Secretary General Jens Stoltenberg played down France's decision to go the EU route instead of invoking the alliance's collective-defense clause, a pillar of western security since NATO was formed in 1949 at the onset of the Cold War.
"There has been no request for invoking Article 5, but many NATO allies have offered France support and help and we are doing in many different ways," Stoltenberg told reporters before joining the EU meeting.
Intended to assure the American defense of western Europe, NATO's Article 5 guarantee has only been activated once, ironically by European governments to come to the aid of the U.S. after the Sept. 11 attacks.
German Defense Minister Ursula von der Leyen called France's appeal the "basis for consultations" and said "no concrete request or demand" was made of Germany. Germany has provided weapons and training for Kurdish opponents of the Islamic State.
Some countries have offered France equipment and logistical support, and some may send reinforcements to EU peacekeeping missions in Africa to allow French forces there to move to the Syrian front. France will negotiate each country's contribution individually.
"I don't expect any contribution as far as troops are concerned," Dutch Defense Minister Jeanine Hennis-Plasschaert said. "France is a big, powerful country and it has its own capacities."
Before it's here, it's on the Bloomberg Terminal.
LEARN MORE