Fed-Ready Currency Traders Calm About December After Stormy 2015
By and
Euro swings in tightest range in more than three months

Currency implied volatility falls below 10-year average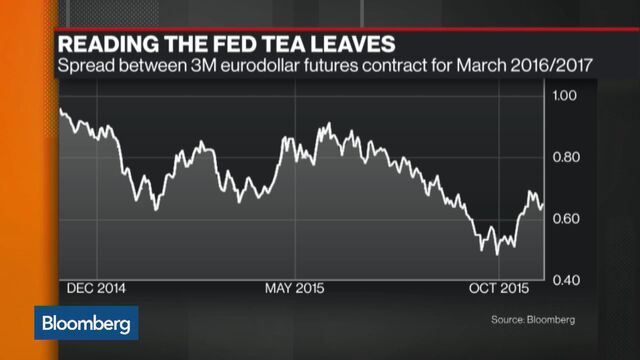 Currency traders are giving the Federal Reserve a green light for its first interest-rate increase in almost a decade.
After a year of surprises that saw exchange-rate volatility climb to its highest since 2013, measures of future price swings have fallen back below the 10-year average, a sign the market is sanguine about tighter central bank policy. The euro fluctuated in the narrowest range last week versus the dollar in more than three months.
That's supporting Fed Chair Janet Yellen's numerous pronouncements that it may be appropriate to raise rates from near zero in December. The stability pervading foreign-exchange markets in recent weeks contrasts with the turmoil stemming from China's shock currency devaluation in August, which helped derail a Fed rate move in September.

"The market has done a very good job of anticipating price movements," said Brendan Murphy, a senior money manager in Boston at Standish Mellon Asset Management Co., who oversees $19 billion of fixed-income assets and manages global currency risks. "A lot of the dollar move is baked in the cake."
The greenback will struggle to break its year-to-date highs versus the euro or yen, Murphy said. The dollar reached $1.0458 per euro in March and 125.86 yen in June.
Calm Returns
Calm has returned to currency markets after the dollar strengthened at the end of October as investors revived trades predicated on higher U.S. borrowing costs.
JPMorgan Chase & Co.'s gauge of global currency volatility has added about 0.5 percentage point in the past month, less than after the Swiss National Bank removed its floor for the franc in January, the European Central Bank starting quantitative easing in March and China's yuan devaluation in August.
The euro moved in a range from $1.0675 to $1.0830 last week, its narrowest weekly band since August. The shared currency was at $1.0647 as of 12:31 p.m. in New York.
Futures show a 68 percent chance the Federal Open Market Committee will announce a rate increase on Dec. 16, at the conclusion of its meeting, up from a 50 percent probability at the end of October. The calculation is based on the assumption that the effective fed funds rate will average 0.375 percent after the first increase.
'Live Possibility'
Yellen told Congress this month that December remains a "live possibility" for higher rates.
"The start has been anticipated for a long time," Ajay Rajadhyaksha, head of macro research at Barclays Plc, said at a press briefing in New York on Nov. 12. "It's not terribly relevant. What really matters far more is the messaging around it."
Emerging markets may also drive currency volatility higher, as central banks respond to a repatriation of capital to the U.S. and to slowing growth in China.
Some 36 percent of investors surveyed by Barclays in late October listed an economic cooling in China and other developing nations as their biggest concern for the next 12 months, with only 7 percent identifying U.S. rate increases as the main risk. Investors are on course to take $540 billion out of developing countries this year, the first net capital outflow since 1988, the Institute of International Finance said in October.
'Quite Difficult'
"The U.S. has never been the be-all and end-all of this current cycle; this current cycle is an emerging-market cycle, it's a commodity cycle, it's a China cycle," said Andrew Milligan, the Edinburgh-based head of global strategy at Standard Life Investments Ltd., which manages about $393 billion. "We can see situations where emerging markets just have a really quite difficult 2016."
For now, markets seem unconcerned. The Chicago Board Options Exchange Volatility Index measuring stock price swings fell the most in four years last month even as it has climbed back above its 2015 average. The Bank of America Merrill Lynch MOVE Index, which measures price swings in U.S. government debt based on options, is at its lowest this year.
For HSBC Holdings Plc, that means investors betting on moves higher by the dollar are in for a tough 2016.
"You missed the rally," David Bloom, the London-based global head of currency strategy at HSBC, said on Bloomberg Television last week. "It's priced in."