Ex-Aviva Analyst Fined, Banned by U.K. FCA for `Cherry Picking'
by
Mothahir Miah ordered to pay 139,000 pounds by regulator

Aviva was fined 17.6 million pounds over behavior in February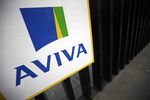 A former Aviva Plc investment analyst was fined and banned by the U.K. Financial Conduct Authority for mis-allocating trades to funds that would deliver higher performance fees in an effort to boost his profits.
Mothahir Miah was fined 139,000 pounds ($211,000) for engaging in a practice known as "cherry picking," which involved delaying the allocation of trades to ensure the best ones went to hedge funds that paid higher fees, the FCA said Tuesday. He received 372,500 pounds from the practice as part of an incentive scheme that made up 45 percent of his total remuneration from January 2010 to October 2012.
Aviva was fined 17.6 million pounds in February by the FCA for failing to manage conflicts of interest among funds in its fixed-income business. From 2005 through 2013, Aviva served funds that paid different performance fees from the same desks, a system that led traders -- who received a share of the commission -- to favor those that paid more. A group of traders made 27.4 million pounds over the period thanks to higher fees from hedge funds, the FCA said earlier this year.
"Mr. Miah knew that cherry picking was wrong, but was motivated by a desire to prove his trading ability to his colleagues and increase his prospects of being promoted," the FCA said in a statement. He failed "to act with honesty and integrity."
Under Aviva's structure, hedge funds, which could pay as much as a 20 percent performance fee, could be managed along with so-called long-only funds, which paid much lower or no fees, according to the FCA.
Traders took advantage of systems and control failures to log trades for hedge funds first despite rules that meant they had to book transactions for the long-only funds -- which only buy assets they expect to go up in price -- within 15 minutes of execution.
A lawyer for Miah and a spokeswoman for Aviva declined to comment.
Aviva paid eight funds 132 million pounds in March 2014 after finding two former fixed-income traders had handled some trades improperly. The London-based insurer, which is Britain's second-largest by market value, notified the regulator when it uncovered the misconduct.
Before it's here, it's on the Bloomberg Terminal.
LEARN MORE