EU Says Refugee Spending May Get Budget Reprieve If Proof Shown
by
France budget plan doesn't yet correct debt by 2017 deadline

Italy, Austria, Lithuania at risk of breaching EU targets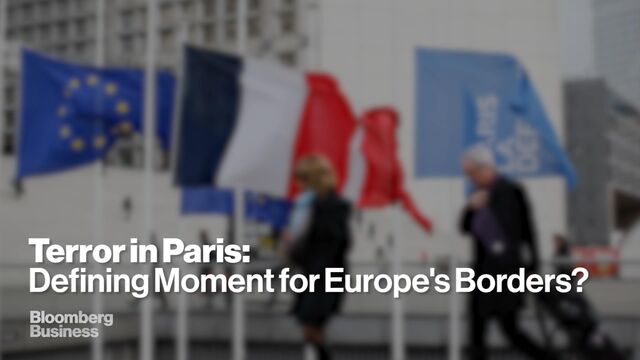 Refugee spending by European Union nations may receive some reprieve from the bloc's budget rules if the governments can show proof that outlays are linked to extraordinary circumstances, the European Commission said.
None of the draft budget plans submitted to the EU ran the risk of "particularly serious non-compliance" with debt and spending rules, the Brussels-based commission said on Tuesday. France's budget plan suggests it won't meet a 2017 deadline -- already extended in a move to avoid unprecedented fines -- to correct its deficit, it said.
Italy, Austria and Lithuania were found to be at risk of not meeting their 2016 budget targets.
The EU executive said that when countries are faced with "unusual events outside the control of the government," nations can increase spending without drawing budget-related sanctions. The commission said it is "willing to use these provisions" for 2015 and 2016 budget requirements, as long as countries can provide "observed data" to show they're following the rules.
"This means that deviations deriving only and directly from the net extra costs of the refugee crisis will not lead to any stepping up in the procedures," the commission said. It also promised not to open new deficit-related proceedings if countries keep their deficit "close to" the 3 percent limit, even if refugee spending causes a breach.
In the wake of terrorist attacks that devastated Paris, French President Francois Hollande said extra spending to ensure France's security is more important than European budget rules. "The security pact is more important than the stability pact," he told lawmakers on Monday in Versailles.
Debt is starting to fall across the EU for the first time since the beginning of the euro area's debt and financial crisis, Commission Vice President Valdis Dombrovskis said in a statement. At the same time, he said, progress across Europe is uneven.
"The problem of high debt is still holding back a faster recovery," Dombrovskis said. "It is important for governments to continue implementing responsible fiscal policies and for others to continue cleaning up their public finances."
There are 12 countries currently under "preventive" budget requirements, while France, Ireland, Slovenia, Spain and Portugal fall under "corrective" rules. Ireland and Slovenia are on track to move out of the EU budget pact's corrective arm in 2016 if they stay on track, the commission said.
Portugal did not submit a budget plan, and the commission urged it to do so as soon as possible. Spain, which submitted its plan early, was found to be still at risk of breaching the EU's rules. Greece and Cyprus undergo a separate process because they are still in rescue programs.
Before it's here, it's on the Bloomberg Terminal.
LEARN MORE