ECB's Praet Sees Risk Inflation Expectations Will Be De-Anchored
by and
Executive Board member, chief economist comments in interview

Central bank's credibility questioned if inflation goal slips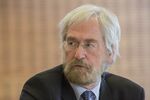 The European Central Bank sees a risk that investors and consumers will lose faith in policy makers' projections for reviving inflation, Executive Board member Peter Praet said.
"It's key for a central bank to keep inflation expectations anchored, especially in a period of slack in the economy, and we have some signals that these inflation expectations are still fragile," Praet, 66, said in a Bloomberg interview in Frankfurt on Monday. "There are risks and this is why we're considering further action. A possible de-anchoring of inflation expectations together with a lot of slack is a dangerous cocktail."
Eight months into an unprecedented 1.1 trillion-euro ($1.2 trillion) bond-buying program, the ECB is considering stepping up stimulus as the euro area's sluggish recovery fails to lift consumer prices clear of the deflation danger zone. While some policy makers have said there's little need for more action just yet, Praet argued that the Frankfurt-based institution is concerned about persistent miscalculation of how long it'll take to return inflation toward its goal.
"Mechanically updated projections suggest that the risk is present that we may again have to extend this horizon," he said. "And even if it's slightly, it's a repetition of a past pattern. And then you go into the question of credibility of monetary policy."
The euro was down 0.2 percent at $1.0661 at 3:05 p.m. Frankfurt time, near the lowest level since April.
"The rather dovish comments from ECB's Praet are dominating," Esther Reichelt, a strategist at Commerzbank AG, said from London. "If the ECB is stressing the de-anchoring of inflation expectations, and the Fed playing them down, then that stresses that we are going to see monetary policies moving in different directions. That justifies, in this case, lower levels in euro-dollar."
ECB President Mario Draghi has said the Governing Council will reassess its stimulus at its next monetary-policy meeting on Dec. 3, when it'll also unveil revised macroeconomic projections. In September, the ECB saw the economy expanding 1.7 percent in 2016 and 1.8 percent in 2017, with inflation averaging 1.1 percent and 1.7 percent, respectively.
U.S. inflation is showing signs of picking up. Data on Tuesday showed the core consumer-price index, excluding food and fuel, rose 0.2 percent for a second month in October. That's the strongest back-to-back reading since May and April.
Paris Attacks
The 19-nation euro area's recovery, which Praet said remains "fragile," is contending with a slowdown in emerging markets and the prospect of an interest-rate increase in the U.S. that could damp demand. Friday's terror attacks in Paris heighten political tension and add to the uncertainty.
More stimulus isn't guaranteed. Governors including Estonia's Ardo Hansson, Slovenia's Bostjan Jazbec and Germany's Jens Weidmann have signaled since the last meeting that they see no need to ease policy further just now. The ZEW index of investor sentiment for Germany, the region's largest economy, rebounded this month, figures showed on Tuesday, though expectations for the euro area fell. About 18 percent of the responses in the survey came after the Paris attacks.
"When we look at the flow of information so far, the economy is still in a cyclical recovery," Praet, the central bank's chief economist, said in the interview. "But I would say that the downside risks haven't decreased -- probably rather, unfortunately, increased a little bit."
Praet's tone was "dovish" as he "talks about the credibility risk of not meeting the inflation target," said Anders Vestergaard Fischer, an analyst at Danske Bank A/S in Copenhagen. The comments "continued fuel on the ECB expectation fire," he said.
Market Influence
Praet said that while measures of financial conditions haven't worsened, that's partly because of investor expectations of more monetary stimulus. Even so, he rejected the suggestion that ECB policy is overly influenced by markets.
"I strongly disagree with that; it's more the opposite," he said. "When we talk about our ability and willingness to act under a number of conditions, of course markets incorporate that."
Since the global financial crisis, the ECB has implemented unconventional policies including targeted long-term loans to banks, a negative deposit rate and the government-bond purchase plan that started in March. Praet said the measures have had a larger impact on financial conditions than expected, but a smaller effect on inflation.
ECB policy makers have said that if they decide there is a need for further stimulus, they could extend the duration of quantitative easing past the initial end-date of September 2016, broaden the program into other asset classes, or increase its size. They could also cut the deposit rate, currently at minus 0.2 percent, after officials agreed that it's no longer considered to be at the lower bound.
Cliff Effect
"Our own experience with a negative deposit rate was more favorable than we initially thought," Praet said. "There is no decision which has been taken but it is true that, given the experience that we have seen, we thought in the Governing Council that there was the case to re-discuss the lower bound."
Regardless of whether more stimulus is added, Praet said the Governing Council will have to explain what it will do with the assets purchased. It is well aware of the so-called cliff effect when large volumes of bonds mature at about the same time, he said.
"At some point we'll have to clarify what happens after September 2016," he said. "Quite a lot of securities come into maturity into the early years after September 2016. This is something the Governing Council at some point will have to decide and communicate."
First though, policy makers must address the current stance at their December monetary-policy meeting. They'll face a judgment call over whether any risks posed by adding more stimulus outweigh the downsides of waiting.
"The Governing Council will discuss whether there is a case for further action in the context of heightened uncertainty," Praet said. "This is a key issue."
Before it's here, it's on the Bloomberg Terminal.
LEARN MORE