East Europe Fears Easing of EU's Russia Curbs in Paris Aftermath
by , , and
Putin's diplomacy after terror attacks catches East off guard

EU divisions threaten sanctions extension due by late January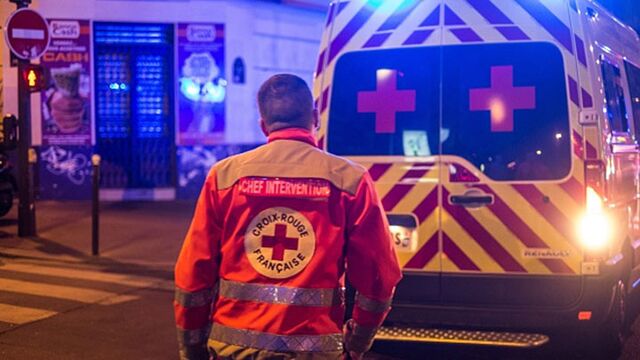 Eastern European officials urged the European Union not to ease sanctions against Russia in exchange for President Vladimir Putin's cooperation in the war against the Islamic State.
Putin has sought to get back into the West's good graces by touting himself as an ally in the fight against Middle Eastern jihadists and by offering an economic olive branch to Ukraine.
Eastern Europeans who weren't present for Putin's diplomacy at the Group of 20 summit in Turkey this week said it would be a mistake for the EU to back down on the sanctions, which were imposed in 2014 over Russia's annexation of Crimea and support for rebels in Ukraine's east.
"Any rapprochement between the U.S., EU and Russia in light of the Paris acts of terror shouldn't be an argument for lifting or easing the sanctions," Rafal Trzaskowski, whose term as deputy Polish foreign minister just ended, said in an interview in Warsaw on Tuesday. "Some countries will use Russia's involvement in Syria to justify easing, but the EU will lose credibility if it does so."
U.S.-Russia Thaw
Poland's incoming government has promised an even tougher stance against Russia, which Prime Minister Beata Szydlo called her country's "enemy." Support for the sanctions is vehement in the Baltic states, and trails off toward the south and west of the 28-nation EU.
French President Francois Hollande, who halted the sale of two warships to Russia over the Ukraine conflict, welcomed Putin on Monday into the alliance against Islamic State. The Russian president ordered his Mediterranean navy to work with French warships against the Syrian targets. A huddle between President Barack Obama and Putin also reinforced impressions of a thaw.
Putin finding common ground with the U.S. and the EU on fighting international terrorism may help remove sanctions and boost the country's sovereign debt rating Moritz Kraemer, managing director of sovereign ratings at Standard & Poor's, said in an interview in Moscow on Tuesday.
"The fact that we have Russia and the West on speaking terms again is a good thing," Kraemer said. "It could lead to better cooperation and better cooperation could lead to reconsidering the sanctions. We are seeing a situation that seems to be more overlap in common interests."
Sanctions Deadline
French officials said they don't plan to include sanctions in talks with their Russian counterparts and see officials in Moscow understanding that the issue isn't related to cooperation in Syria.
EU governments will weigh Russia's adherence to the eastern Ukraine truce when deciding by Jan. 31 whether to extend, ramp up, scale back or drop entirely the economic penalties. With extended sanctions requiring unanimity across the bloc, Putin needs only one compliant government to restore business as usual.
"There can't be any bargaining over meeting the conditions: cooperation elsewhere doesn't mean concessions for Europe in its neighborhood," Prime Minister Taavi Roivas of Estonia told lawmakers in Tallinn on Tuesday.
EU Summits
While sporadic fighting intensified this month between Ukrainian troops and Kremlin-backed separatists in the east, Putin on Monday on Monday offered Ukraine easier repayment terms on a $3 billion bond owed to Russia.
Germany, Britain and eastern Europe led the way in forcing through the original sanctions, dragging along less enthusiastic countries including Hungary, Greece, Italy and Austria.
Before Friday's attacks in Paris, debate in Brussels centered on a possible extension of the sanctions for six months. The issue next comes up at a Dec. 14 meeting of EU foreign ministers and a Dec. 17-18 summit.
"The Russia-provoked crisis in Ukraine cannot disappear from the agenda," Lithuanian Foreign Minister Linas Linkevicius was cited as saying by Baltic News Service on Monday. "Russia hasn't yet demonstrated that it's a partner."
Before it's here, it's on the Bloomberg Terminal.
LEARN MORE