Dubai Banks Brace for Bad Debt as Borrowers Flee the Country
by
Rising number of small business owners are abandoning debts

Slowing economy and lack of bankruptcy law prompting 'skips'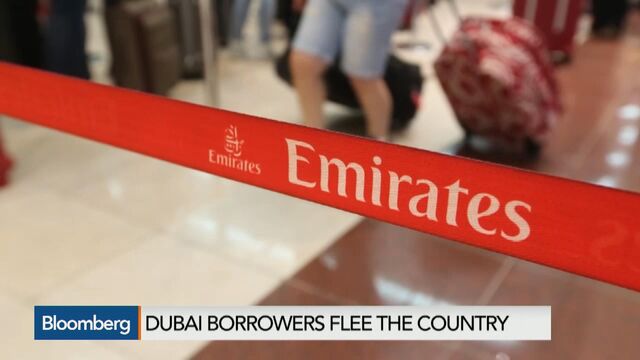 Dubai's slowing economy, the rout in commodities and strict debt repayment laws are reviving a phenomenon that symbolized the emirate's crash in 2009: "skips," or business owners who quietly leave the country to avoid punishment for defaulting on loans.
A rising number of smaller and medium-sized company owners are abandoning the United Arab Emirates without repaying debt, according to Emirates NBD PJSC, the country's second-largest bank. People in the SME sector may have left behind 5 billion dirhams ($1.36 billion) of loans this year, Abdul Aziz Al Ghurair, Chief Executive Officer of Mashreqbank PSC and chairman of the U.A.E. Banks Federation, said in Dubai on Monday.
While so far limited in scope -- Emirates NBD says it's seeing the phenomenon in areas such as commodities financing -- the "skips" recall the 2009 financial crisis when thousands of expatriates fled the country to avoid a local legal system which lacks a bankruptcy law and criminalizes bounced checks. They're also a sign that the pain of lower oil prices and a slowing economy are being most felt by smaller companies that can't survive long when lines of credit are restricted and customers stop paying.
"Some banks have been reacting to the fall in commodity prices by pulling bank loans and tightening credit standards, and that has added to the stress," said Shabbir Malik, a banks analyst at EFG-Hermes Holding SAE. "Over the next two to three quarters we will see provisioning at the banks rise as a result of these skips and problems in the SME sector."

Banks in the U.A.E. had focused on boosting loans to SMEs as they could typically charge higher interest rates than lending to large corporations. That shift also followed government measures to boost small business as a way to create jobs and diversify the economy. The U.A.E. last year stipulated that government agencies give at least 10 percent of their contracts to local smaller businesses, according to the Economy Ministry.
Shuaa Capital PSC, a local investment bank which recently made a push into SME lending, said Sunday it swung to a third quarter loss because of higher provisions for small and medium-sized customers.
Checks are still a common form of payment in the U.A.E. Banks often hold them as a security deposit against personal and business loans since the punishment for failing to having enough funds to cover them can be imprisonment. There's also no bankruptcy law to protect debtors from creditors. A draft law on financial regulation and bankruptcy was approved by the cabinet earlier this year, but requires several steps before being passed.
Credit Standards
The situation could get worse before it improves. Liquidity conditions in the U.A.E. are expected to become tighter over the next few months, according to a quarterly credit sentiment survey from the central bank. Credit standards and risk premiums for loans rose for a third consecutive quarter and will continue to do so in the final three months of the year, it said. The U.A.E.'s interbank lending rate has risen to the highest since July 2013, according to central bank data on Bloomberg.
The problem of skips was at its pinnacle in 2009 and 2010, when the financial crisis pushed the economy into recession and forced several state-owned to lay-off workers and restructure billions of dollars of debt. That's not the case now: growth in the United Arab Emirates is moderating but not slumping, with expansion of 3.5 percent this year, according to the median estimate of nine economists compiled by Bloomberg. That's down from about 4.6 percent last year.
Commodities Distress
The distress in the commodities universe may be responsible for much of the pain as business owners and traders struggle to absorb losses on everything from the price of bullion to crude oil. Dubai has tried to transform its economy by becoming a hub for trading in everything from gold and diamonds, to tea and pearls. Gold, for example, is heading for its third annual decline while oil has slumped by about half in a year.
"These skips are a reminder of what happened after the financial stress Dubai went through in 2009," Philippe Dauba-Pantanacce, an emerging market economist at Standard Chartered Plc in London, said by e-mail. "There is no doubt that certain sectors of the Dubai economy are starting to show signs of slowdown but the very fact of these 'runs' tells as much about the constraints posed by the bankruptcy legal environment as it possibly is a symptom of economic conditions."

Results at larger corporations and the banks are also holding up. Emaar Properties PJSC, which has the largest weighting in the Dubai Financial Market General Index, said net income rose 31 percent in the third quarter. Dubai Islamic Bank, which has the second largest weighting in the index, said third-quarter profit rose 44 percent.
"Right now the problem is just in a small corner of the economy," EFG's Shabbir said. So far the number of skips has been "nothing like the scale of the problem in 2009. We don't see any signs of stress in the larger corporate sector yet."
Before it's here, it's on the Bloomberg Terminal.
LEARN MORE