Citi: The Death of U.S. Capital Spending Has Been Greatly Exaggerated
Capital expenditure, excluding energy, is poised to rise during this year and next.
by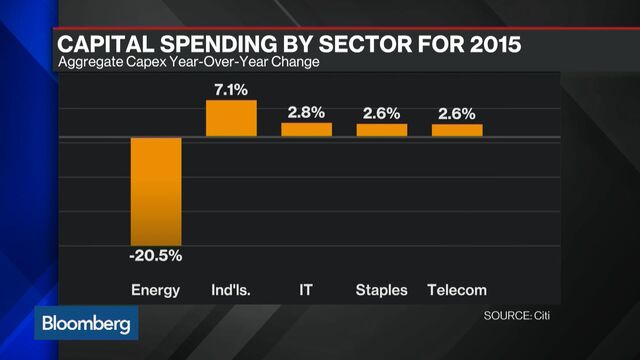 Corporate America's perceived reluctance to spend much on anything other than its own shares has been a boon for the stock market but is often cited as a drag on real economic activity. However a new report from Citigroup casts doubt on that assertion.
An extended period of near-zero interest rates has made it cheaper for Standard & Poor's 500-stock index companies to issue cheap debt, which they have used to repurchase roughly $2 trillion of their own stock, on net. Reducing the amount of shares outstanding—the denominator in the earnings-per-share equation that is closely tracked by analysts and investors—has the effect of boosting the bottom- line results, assuming no change in the earnings numerator.
Deutsche Bank's Binky Chadha noted that since the market hit bottom in March 2009, the shrinkage in shares has been the driving force behind the U.S. equity rally. David Kostin, Goldman Sachs's chief equity strategist, is calling for repurchase programs to "remain robust" in the coming year, totaling $608 billion in 2016.
To the extent that companies elect to pursue a more conservative way of bettering their financial performance than traditional business investment, this could be viewed as having adversely affected the U.S. economy.
In addition, the popularity of share-repurchase programs might be seen as contributing to America's sluggish wage growth; capital deepening is conducive to productivity growth, which loosely determines real wage growth.
In contrast, said Tobias Levkovich, Citigroup chief equity strategist, said there's no reason to think these buybacks are replacing capital expenditures. Rather, he said, they are complementing them.
"While misperceptions abound when it comes to companies allegedly not investing in their businesses and preferring to buy back stock instead, there is little corroborating evidence," Levkovich argued. "S&P 500 companies have had capital investment dollars ahead of the amount used for buybacks for more than four and a half years and capex has hit a record every year since 2011."

Thanks to the carnage in the commodities complex, the capital spending of non-financial companies covered by Citi is slated to retreat during this year and next. Stripping out the energy sector's malaise, however, capital spending is poised to rise by 3 percent in 2015 and by 9 percent in 2016, Citi said. (Still, when the bank last performed this analysis six months ago, non-energy investment was projected to rise by twice as much this year.)
Corporate America's spending plans still supportive continued expansion for the world's largest economy, according to Levkovich.
"In this context, concerns about an economic slowdown driven by management teams hunkering down do not seem to be backed by current business budgets," concluded the strategist, adding that business investment should remain solid as long as there's no material rise in interest rates.
"As highlighted many times in the past few years, financing costs would have to rise meaningfully to cause a substantive drop in business investment since it makes eminent sense to put money to work when return on invested capital exceeds the cost of capital and that is still intact as opposed to the environments witnessed in 1999 and 2007 preceding the last two recessions."
Before it's here, it's on the Bloomberg Terminal.
LEARN MORE