Charting the Markets: Investors Shrug off Paris Concerns
French stocks rebound, the dollar rises to a record high and Liberty Global snaps up C&W.
by
Global stocks rose for a second day, taking their cue from the U.S. after the S&P 500 jumped the most since Oct.22. The flight to safe assets after the Paris attacks faded throughout Monday, continuing a trend seen after similar terror incidents over the last 15 years.

France's CAC 40 jumped on Tuesday after closing just 0.10 percent lower. Monday's worst-performing stock was Accor, Europe's biggest hotel operator. It dropped almost 5 percent on concern tourism will be hurt by the Paris attacks. On Tuesday shares rose as much as 2.2 percent. LMVH shares recouped all of Monday's losses. The STOXX Europe 600 gained for a second day, rising the most in almost four weeks.

The dollar's ascendancy continues. A gauge tracking its performance against ten leading global currencies has risen to the highest on record. Hedge funds remain bullish on the greenback: along with other large speculators they've boosted bets of dollar gains versus eight major currencies in the last three weeks, according to data from the Commodity Futures Trading Commission. The dollar has risen against all 16 of its major peers in 2015 on expectations the Fed is close to raising interest rates.

U.S. billionaire John Malone's acquisition spree shows no sign of abating. His Liberty Global business is buying Cable & Wireless in a £3.5 billion deal. Malone has now spent more than $50 billion in the last decade snapping up cable companies across Europe. Buying C&W, which gets more than half its revenue from Panama and the Caribbean, gives him critical mass in Latin America. He became a shareholder in C&W last year when it bought his cable-TV and Internet provider Columbus International. C&W shares jumped as much as 8 percent, surpassing the 78.04 pence bid valuation.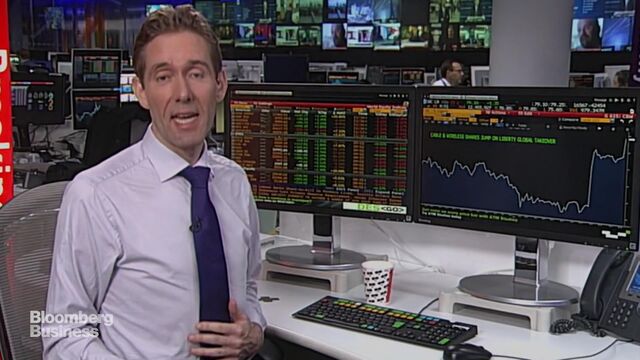 Mark Barton is a presenter on Bloomberg TV. Follow him on Twitter @markbartontv
Before it's here, it's on the Bloomberg Terminal.
LEARN MORE