Bombardier Mired in Worst Streak Since 2011 on Order Gloom
by
`Where are the catalysts? I don't see any reason to buy'

C Series drought, business-aircraft slump seen damping stock
Bombardier Inc. is mired in its longest streak of declines in almost four years as investors weigh a possible slowdown in the business-aircraft market and the persistent order drought for the C Series jetliner.
The end of flight tests for the first C Series model and a tentative agreement for the sale of 20 business jets didn't prevent the stock's eighth straight daily drop on Tuesday. The swoon has erased a rally that followed the Quebec government's Oct. 29 plan for a $1 billion rescue for the program.
A Honeywell International Inc. forecast on Sunday for an impending decrease in business-jet deliveries added to the gloom surrounding Bombardier, already draining cash because of delays on the C Series. A potential $2.1 billion sale of the planes to Porter Airlines Inc. fell through on Friday because it was conditioned on growth at Toronto's downtown airport, which has now been blocked.
"They are not selling the C Series, and the rejection of the Toronto airport expansion doesn't help," Massimo Bonansinga, a fund manager at CI Investments Inc. in Toronto, said by telephone. "At the same time, the business-jet environment continues to be quite negative. Where are the catalysts? I don't see any reason to buy."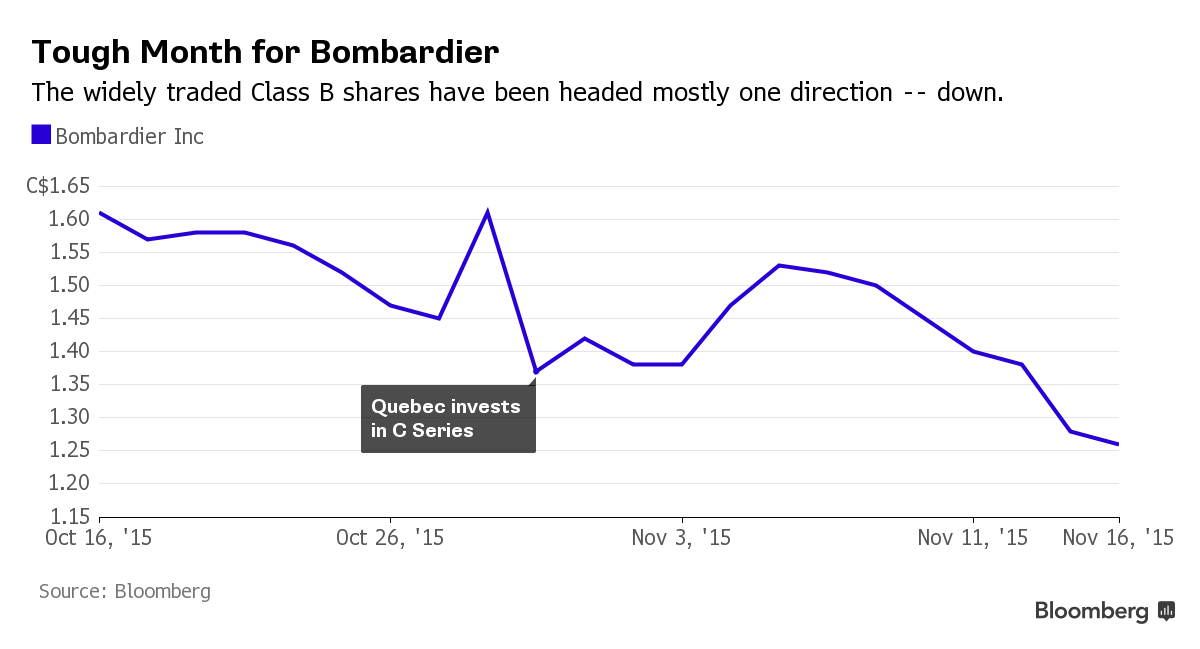 Bombardier's widely traded Class B shares slid 1.6 percent to C$1.24 by the close of trading in in Toronto. The eighth consecutive decrease marks Bombardier's longest such streak since November 2011.
Order Drought
Canada's largest aerospace company last booked a firm order for the C Series in September 2014, when a unit of Australia's Macquarie Group Ltd. agreed to buy 40 of the jets. Costs to develop the plane -- which is more than two years late -- have ballooned by more than $2 billion to about $5.4 billion.
Bombardier said the CS100, the smaller of two variants of the C Series, is now in "the final stage" of certification by Transport Canada. The plane is due to enter service in 2016. Executives probably will provide further details on the program at a Nov. 24 presentation for investors in New York City.
Prospects for a lift from business-jet sales -- traditionally Bombardier's most-profitable unit -- may be fading after Honeywell's annual survey of the luxury-aircraft market projected the first drop in long-term spending since 2009. Still, Bombardier Tuesday disclosed a memorandum of understanding with Flexjet LLC for 20 Challenger 350 aircraft that is valued at about $544 million, based on list prices.
"The Honeywell forecast doesn't look all that good," David Tyerman, a Toronto-based analyst at Canaccord Genuity, said by telephone. "The outlook for business jets couldn't come at a worse time."
Having persuaded Quebec to invest in the C Series, Bombardier is now awaiting a response from Canada's federal government. Quebec Economy Minister Jacques Daoust told Bloomberg News Friday he's optimistic Canada will join the province in providing financing for the program.
Even so, "if you leave aside the question of government financing, Bombardier's business is not taking off," Bonansinga at CI Investments said. "They have to get orders."
Before it's here, it's on the Bloomberg Terminal.
LEARN MORE