Australia `Not Naive' to Economic Uncertainty, Morrison Says
by and
Morrison says not naive to uncertainties in global economy

China's demand for services expected to boost exports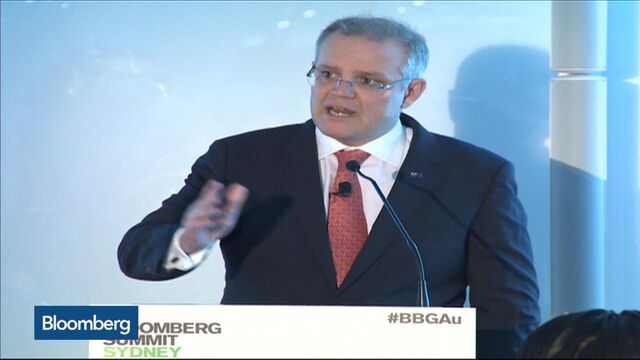 Australia rode a China-fueled resources boom to a record 25 years of growth. The next quarter century won't be as easy now that its biggest customer is driven by consumption and services rather than construction and manufacturing.
"We can't put a reserved sign at the table" to capture the next wave of opportunities in China, Treasurer Scott Morrison said at the Bloomberg Summit in Sydney where leaders from business, politics and banking explored Australia's drivers for growth in 2016 and beyond. The country can still be "a big winner" from the relationship, but will have to work harder to take up the opportunities in services.
"We're not naive to the uncertainty and volatility in global economic conditions, nor to the need for our economy to transition and diversify post the mining boom," Morrison said. "There is a pragmatic realism to our optimism about our economic future in this country."
Australia, the most exposed developed-world economy to China, is about half way through a wind down of a mining investment boom, and faces downward pressure on prices for its commodity exports. That is having an impact across the economy; from government revenue to resource company profits and investment decisions by the nation's fund managers.
Growth Alternatives
"Australia really needs to find other ways of growing than just getting more stuff out of the ground," said Olivia Engel, head of active quantitative equities for Asia Pacific at State Street Corp. She has just 3 percent of her Australian equities fund invested in mining companies and none of it in energy firms.
Megan Clark, a board member of Rio Tinto Group, the mining giant that wins almost 70 percent of revenue from China, said the transition there "has probably been a bit more bumpy than had been heralded by the government."
"There's no question that now as we look at the Chinese economy, it's not everyone rising on the same tide," Clark said. Even as China's steel sector slows, there are opportunities from rising copper demand, particularly in the construction of power grids and in renewable energy, she said.
Reanimate Innovation
Morrison and his boss, Prime Minister Malcolm Turnbull, who took over Australia's economic reins two months ago, are trying to reanimate innovation and entrepreneurship to spur firms to take advantage of opportunities locally and abroad. They have raised the possibility of structural economic changes to boost productivity and revitalize an economy that has grown below average for six of the past seven years.
The government plans a major statement on innovation in December, which will include some tax changes, Cabinet Secretary Arthur Sinodinos said at the summit.
A recently signed free-trade agreement with China enhances the ability of Australian firms to sell services there, Sinodinos said. "The opportunity will be there, but there will be a lot of competition for it," he said.
China Services
Strength in services and consumption in China helped reduce the drag from weaker manufacturing and exports in the three months through September, highlighting the continued transformation of the world's second-largest economy. The pace of growth in the services sector quickened to 8.4 percent in the first nine months of the year, having replaced manufacturing and construction as the biggest part of China's economy in 2012.
As mining investment in Australia slumps and growth slows, the central bank has cut its benchmark rate to a record-low 2 percent and kept it there for the past six months. The Reserve Bank of Australia in easing policy has also pushed down the currency, which has fallen more than 30 percent since the start of 2013.
The Aussie's decline has helped Australia's exports to China remain competitive, Morrison said. "There's no doubt that the stabilizer that you have from a floating exchange rate is doing its job."
No Substitute
Still, the central bank downplayed suggestions that the Australian dollar might suffer because of the economy's links to China.
The Aussie isn't being held as a substitute for the yuan and the renminbi's inclusion in International Monetary Fund reserves won't hurt flows into Australian debt "any time soon," Guy Debelle, assistant governor at the RBA, said at the summit. "I think people are holding Aussie for other reasons in their portfolio, not as a sort of renminbi substitute."
As demand for iron ore, coal and other hard commodities from China wanes, the slack will be taken up in time as Australia's largest trading partner looks Down Under to deliver more of its services in areas including financial management, health and education, Morrison said.
"We are not a peripheral, fringe player in China," Morrison said. "We're in the mainstream of where the real growth is present."
Before it's here, it's on the Bloomberg Terminal.
LEARN MORE