Victims of Paris Attacks Among France's Best Hopes for Future
by
Attacks claimed 129 lives, left more than 300 people injured

Most died at Le Bataclan concert hall at the heart of the city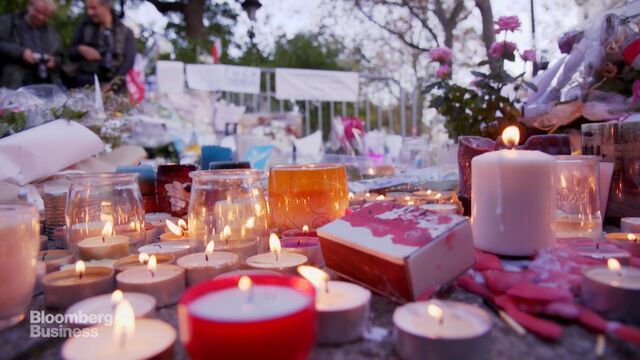 They were lawyers, engineers, journalists, corporate executives. If they hadn't been fans of a California band called The Eagles of Death Metal, they would still be alive.
The victims of Friday's Le Bataclan concert hall attacks in Paris embodied some of France's best hopes for its future. As details become available about the more than 89 people killed there, a profile is emerging: mostly well-educated, accomplished people in their 20s, 30s, and early 40s.
"They were young professionals, doing well in life," said Amandine Panhard, whose cousin died in the attack. Her cousin, Pierre-Antoine Henry, was an engineer and father of two young daughters who lived in the upscale Paris suburb of Versailles. "They killed the nicest guy in the world," she said.
The Eagles of Death Metal plays a mix of bluegrass, blues, and rock. Its heavy-metal name "is a sort of a joke," Panhard said, and the band has a loyal following in France among intellectuals and music connoisseurs.
France's Hope
Others who died at the Bataclan, according to their employers' websites or twitter accounts of their families and friends:
Valentin Ribet, 26, a Paris-based attorney with the British-American law firm Hogan Lovells. He had graduated from the Sorbonne and had a master's degree in international business law from the London School of Economics.
Guillaume Decherf, 43, a music journalist who had written about the band and was an announcer at the Bataclan performance. According to his LinkedIn profile, he had degrees in English and journalism, had studied in England, and also spoke German.
Elsa Delplace, a native of Chile who was a management consultant specializing in organizing cultural events. According to her LinkedIn profile she had earned a master's degree from the Institut Superieur des Arts and was an accomplished cellist.
François-Xavier Prévost, 29, an advertising executive. According to his LinkedIn profile, he had a master's degree in international business, worked for more than five years for Havas Digital Media, and had recently become head of advertising for LocalMedia, a company based in the northern French city of Lille.
Before it's here, it's on the Bloomberg Terminal.
LEARN MORE