pursuits
Urban Outfitters Drops After Saying It Will Buy Pizza Chain
By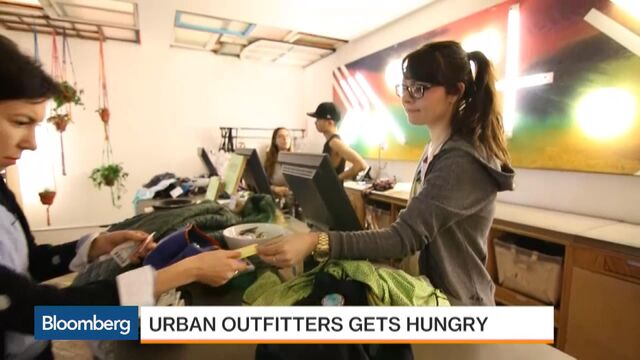 Urban Outfitters Inc.'s plan to get into the restaurant business isn't sitting well with investors.
The stock fell 7.4 percent on Monday after the company announced the acquisition of Philadelphia's Vetri Family group of restaurants, including the Pizzeria Vetri chain. Broader concerns about a retail slump were already weighing on the stock, and the surprise move may have put shareholders on edge, said Simeon Siegel, a New York-based analyst at Nomura Securities.
"Investors are concerned about the sector as a whole," he said. "Anything that's going to give credibility to the fear that the old-school retail model is antiquated is going to trigger more fear."
Retailers ranging from Nordstrom Inc. to Fossil Group Inc. have posted woeful third-quarter results and made anemic projections for the holiday season. With shopping-mall foot traffic slowing, investors are increasingly worried that the brick-and-mortar retail model is out of date. By expanding into pizza, Urban Outfitters actually put a bigger spotlight on its existing business, Siegel said.
"You're looking at a company that has decided to go in a different direction, and you're questioning the value of the core business before you can begin to start analyzing the value of the new business," he said.
The stock fell $1.82 to $22.67 in New York, the biggest one-day decline in almost six months. The shares had dropped 30 percent this year before the latest tumble.
Slow Sales
Urban Outfitters gave investors more to fret about after the close of trading, when the company released its third-quarter results. Revenue amounted to $825.3 million, well short of the $868.8 million that analysts had projected. Comparable sales -- a closely watched measure -- rose only 1 percent in the quarter, which ended Oct. 31. Analysts had estimated a 3.4 percent gain, according to Consensus Metrix. Earnings came in at 42 cents a share, meeting projections.
The stock fell an additional 11 percent in late trading after the results were announced.
Financial terms of the Vetri deal weren't disclosed, suggesting that it's a small transaction. But acquiring a restaurant chain is an unusual move for a national retailer. Up until now, Urban Outfitters' experience with the food-service industry has come from the cafes attached to some of its bigger stores.
'Perfect Match'
Urban Outfitters has made other moves to diversify its operations. In recent years, the company created a gardening-focused offshoot named Terrain and a wedding brand called BHLDN. It's now using products from those divisions to expand the selection of home goods at its Anthropologie chain.
The Vetri Family restaurant group was started by Marc Vetri, a chef trained in Italy, and business partner Jeff Benjamin. The idea is to use Urban Outfitters to help the restaurants expand while Vetri Family focuses on the food, Marc Vetri said in a statement Monday.
"It's a perfect match," he said.
Before it's here, it's on the Bloomberg Terminal.
LEARN MORE