U.K. to Hire More Intelligence Officers to Fight Terrorism
By
Drive will increase staff at MI5, MI6 and GCHQ by 15%

Funding for foreign airport security advisers also boosted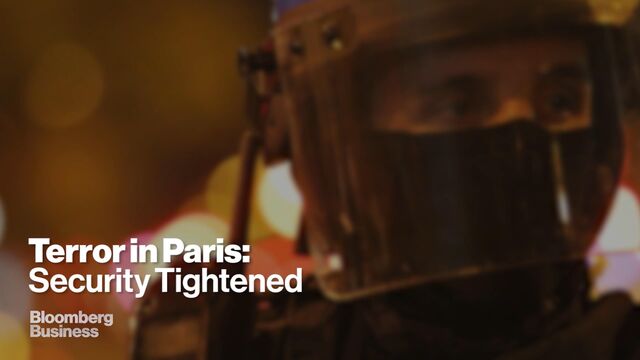 The U.K. is to beef up its security services with an extra 1,900 intelligence officers as David Cameron's government adapts to the prospect of a long fight against terrorism following the downing of a Russian passenger jet and the killings in Paris.
Britain's intelligence agencies currently employ about 12,700 staff, split between MI5, which handles domestic security, MI6, responsible for overseas intelligence, and GCHQ, the communications monitoring service. Cameron will also double spending on aviation security, including on employees to assess security at foreign airports.
The announcement came while Cameron was attending the Group of 20 summit in Antalya, Turkey, a meeting traditionally focused on economics that has been overshadowed by the terrorist attacks. At least 129 people died in Paris on Friday night in assaults claimed by Islamic State.
"We will do everything we can to defeat these people who are trying to destroy our way of life," Cameron told BBC Radio 4 on Monday. "We have been aware of these cells operating in Syria that are radicalizing people in our own countries, potentially sending people back to carry out attacks."
The U.K. security and intelligence services have foiled seven planned terrorist attacks over the past year, Cameron's spokesman, Christian Cubitt, told reporters in London, declining to give any details.
Putin Meeting
Fighting terrorism is forcing Cameron to work more closely with Vladimir Putin. The two men met one-on-one Monday for the first time since last year's G-20 summit. The Russian president began an air campaign in Syria in late September to support President Bashar al-Assad, whom the British prime minister has said must give up power.
"That's the gap we have," Cameron told reporters at the end of the meeting, which lasted close to an hour. "I think it's been reduced, I hope we can reduce it further. It does require compromise on both sides."
Cameron earlier told the BBC that Assad staying on was "unthinkable for the Syrian people."
Around 40 minutes of their talks dealt with Syria and terrorism. Britain is pushing Russia to attack Islamic State, also known as ISIL, rather than other opponents of Assad. "There are some signs that they are focusing more on ISIL," Cameron said afterwards.
Tense Times
At the start of their meeting, both Cameron and Putin acknowledged their differences. The Russian said the two countries are "not living through the best of times" in terms of ties. Cameron said the encounter was an "opportunity to talk about our bilateral relationship."
Cameron said that, while he wants to extend British military action against Islamic State into Syria from Iraq, he wouldn't bring the issue back to parliament until he was sure he would win a vote. The opposition Labour Party under its new leader Jeremy Corbyn is against such a move, and as the prime minister discovered in 2013 when he lost a previous vote on bombing Syria, some lawmakers in his Conservative Party are as well. Another such defeat would damage them nation's standing, Cameron said.
"It's not a question of damaging the government," he told the BBC. "It's a question of damaging our country."
Egypt Bombing
It was Britain that first said the Russian passenger plane that crashed in Egypt last month had been brought down by a bomb. In response, it stopped all flights from the tourist resort of Sharm el-Sheikh until airport security there could be improved.
The U.K. currently has 20 people working with overseas airports and will increase funding for that work. Cameron said in a statement that his goal was "helping countries around the world to put in place the tightest security measures possible so that we can continue to enjoy places like Egypt and Tunisia and continue with our way of life we hold so dear."
Security at U.K. airports is also subject to "robust review all the time," Cubitt told reporters in London.