SunEdison - Now with $739 Million in Extra Recourse Debt?
Analysts debate solar-powered subordination.
by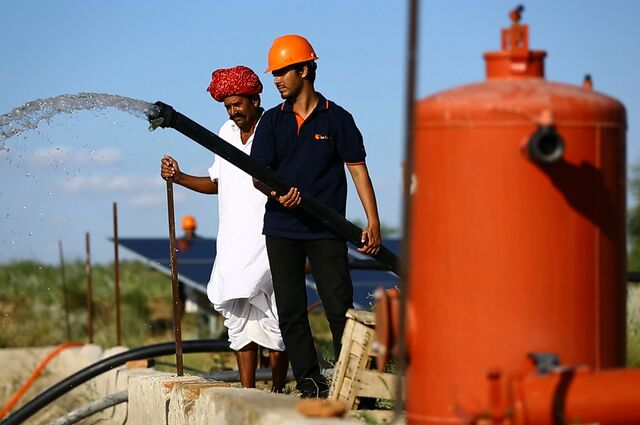 Shares of SunEdison, purveyors of solar power and two yieldcos, look like this.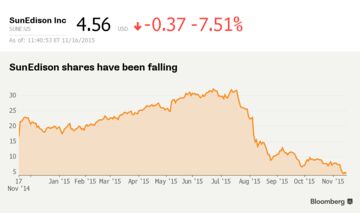 Over the past two months investors have begun scrutinizing SunEdison and its associated yieldcos,  with some voicing concerns over the sustainability of the companies' respective financing arrangements. Those worries are emblematic of a wider problem for firms that have relied on eager capital markets to help finance their stunning growth in recent years.
As the tidal wave of yield-hungry bond investors and lenders washes away, capital-intensive companies from M&A-addicted pharma giants to shale gas explorers to solar power specialists, find themselves facing tougher questions about their financing.
Worries about SunEdison exploded into the limelight last month, after CreditSights analysts Andy Devries and Greg Jones argued that the precipitous fall in one of its yieldco's share price means that SunEdison now faces a collateral call on a $410 million loan secured by TerraForm stock. SunEdison later confirmed that it had paid $152 million in cash to satisfy the margin on the loan.
On Monday, the analysts highlighted another tidbit that will surely not be welcome news for SunEdison; an apparent reclassification of more than $700 million worth of debt from "non-recourse" to "recourse," meaning the company's lenders now have access to additional SunEdison collateral. SunEdison has about $12 billion of debt on its balance sheet, with some $3 billion of that amount listed as recourse to the company, according to Deutsche Bank analyst Vishal Shah and Jerimiah Booream-Phelps.
Here's CreditSights:
When updating our SunEdison debt tracking spreadsheet we noticed SunEdison subtly reclassified its $403 million Margin Loan and $336 million Exchangeable Notes as suddenly recourse switching ... from the non-recourse disclosure used in the [second quarter of 2015] 10-Q filing. We are not accountants and realize this might be sufficient disclosure but we are fairly confident many investors missed the dropped foornote "(a)" ... It is also entirely possible this is just a typo but since SunEdison stopped returning our emails and phone calls over a month ago we have no way to confirm this.
You can see the not-so-noticeable change in the side-by-side snapshot of the old and new quarterly filing.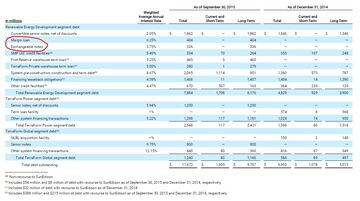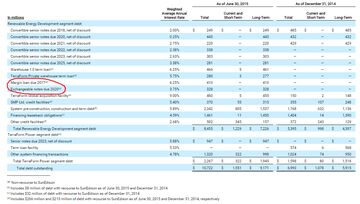 A request for comment to SunEdison spokesman Ben Harborne was not immediately returned.
If the reclassification is not an accidental typo then it speaks to wider trends currently being played out in the capital markets. As lenders become more discriminating in their choice of investment, companies are forced to assume financing on more punitive terms, effectively subordinating their existing debt holders by layering the extra debt and loans on top of them.
The move in turn sparks a vicious cycle in which debt investors become ever more reluctant to fund such companies. 
Before it's here, it's on the Bloomberg Terminal.
LEARN MORE