U.S. Stocks Little Changed as Dollar Advances, Commodities Slide
by and
S&P 500 fails to add to Monday rally, Home Depot buoys Dow

Oil slumps with copper as dollar gains sink resource prices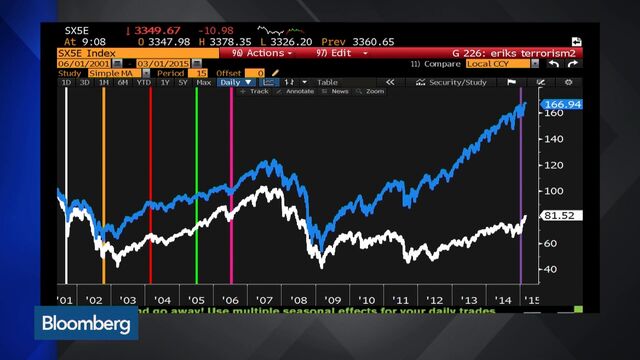 U.S. stocks failed to add to a rebound from the worst week since August, while the dollar climbed to a six-month high versus the euro as firming inflation data bolstered speculation the American economy can withstand higher rates. Commodities fell.
The Standard & Poor's 500 Index slipped after rising 1.5 percent Monday, with gains faltering in afternoon trading. Energy producers led declines as crude tumbled toward $40 a barrel in New York, while Home Depot Inc. led retailers higher. Copper hit a six-year low as the Bloomberg Dollar Spot Index advanced. A weak euro boosted exporters and sent European shares to their biggest gain in six weeks.
The dollar's rally made resources priced in the U.S. currency less attractive at the same time that signs of slowing global growth have led to an oversupply in commodities from copper to crude. The price slump adds to global deflation concerns, even after data Tuesday showed U.S. inflation firmed last month toward the Federal Reserve's target.
"We're coming off of a strong day yesterday," Alan Gayle, senior strategist for Atlanta-based RidgeWorth Investments, which oversees $40 billion. "Energy has been a drag on the market. Oil is still groping for bottom and there's hope that $40 might be it, but the jury is still out."
Stocks
The S&P 500 fell 0.1 percent, erasing an advance of 0.7 percent that briefly took the gauge past its average price for the past 200 days. The index rallied 1.5 percent on Monday to end a three-day losing streak that capped its worst week in two months.
Energy shares tumbled 1.2 percent after yesterday posting the biggest rally since Oct. 2, while utilities fell 1.9 percent. Home Depot rose after posting better-than-expected third-quarter earnings, and Wal-Mart gained after topping profit estimates to buoy the Dow Jones Industrial Average.
"There's broad uncertainty in the market," said Bruce McCain, chief investment strategist at Key Private Bank in Cleveland, the private-banking unit of KeyCorp that oversees more than $25 billion in assets."We're getting a mix of news that makes it difficult for investors to see a clear pathway ahead. We had a real run-up in the market in the last month and then prices started to pull back a bit and that makes people more nervous."
U.S. economic data on Tuesday showed consumer prices excluding food and fuel rose 0.2 percent in October, just as much as in September, and in line with economist forecasts. A separate report showed factory output increased in October for the first time in three months as producers turned out more construction materials and motor vehicles.
Bonds
The U.S. 10-year note yield was little changed at 2.26 percent after earlier rising four basis points to 2.31 percent. Traders are looking to Wednesday's release of minutes from the Fed's October meeting, when policy makers mentioned their December gathering as a potential time for the first rate boost since 2006. 
Yields have risen across maturities since the end of October as traders priced in higher borrowing costs, with 10-year yields reaching a three-month high.
The average yield on euro-area government debt maturing in one-to-three years sank to a record minus 0.151 percent on Monday, according to Bloomberg indexes, a sign traders were adding to bets on looser European Central Bank monetary policy.
Emerging Markets
The MSCI Emerging Markets Index rebounded from a six-week low, climbing 1.3 percent. The Ibovespa led gains in the Americas amid speculation that the government will stay committed to measures intended to trim a budget deficit.
Russia's Micex Index rose 2.7 percent to the highest since Feb. 6, as President Vladimir Putin's alliance with the U.S. in the fight against terrorism sparked speculation sanctions will be loosened.
Currencies
The euro weakened 0.4 percent to $1.0647. The yen was down less than 0.1 percent at 123.28 per dollar.
The ECB is considering further action because there's a risk investors and consumers will lose faith in policy makers' for reviving inflation projections, Executive Board member Peter Praet said on Monday.
Currency traders are giving the Fed a green light to raise interest rates, based on measures of implied price swings.
"It looks like a big bet on the Fed finally putting its money where its mouth is," said Sean Callow, a foreign-exchange strategist at Westpac Banking Corp. in Sydney. "It looks as though the Fed will indeed kick off its tightening cycle in December, providing a stark contrast to other major central banks and thus providing durable support for the dollar."
Commodities
Copper touched a six-year low as all efforts to revive metals prices, from miners cutting supply to China stimulating demand, failed to halt a slide that kicked off three years ago and has only accelerated since. Iron ore lurched to a four-month low on concern China's falling steel production will erode demand and boost stockpiles.
U.S. crude oil fell 2.6 percent to settle at $40.67 a barrel before U.S. government data that analysts forecast will show crude stockpiles expanded for an eighth week in the world's biggest consumer. Brent for January was down 0.7 percent at $44.27.
Silver traded near a two-month low in London after a 13-day rout, the longest in data going back to 1950.
Before it's here, it's on the Bloomberg Terminal.
LEARN MORE