Sternlicht Says Obama Deserves Blame for Attacks in Paris
by and
Starwood Capital CEO says Obama's `been looking the other way'

Sternlicht contributed to Republican Jeb Bush's campaign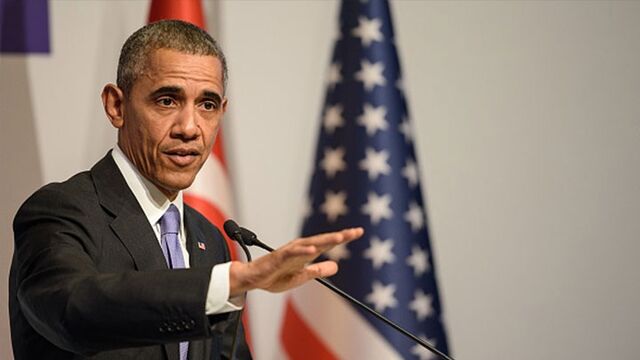 Barry Sternlicht, chairman and chief executive officer of Starwood Capital Group, said President Barack Obama deserves the blame for last week's terrorist attacks in France.
"This is this president's fault, what happened in Paris," Sternlicht said Monday in an interview on Bloomberg Television. "He said these guys weren't real. Everyone in the Middle East has been telling him differently and he's been looking the other way."
Obama defended his strategy during a news conference after the Group of 20 summit in Turkey. The deadly attacks were "a terrible and sickening setback" in what will be a long campaign against the Islamic State terror organization. Shrinking the territory it controls, getting local forces trained and equipped to keep it out, and resolving the civil war in Syria "ultimately is going to be what's going to make a difference," he said. "And it's going to take some time, but it's not something that at any stage in this process have we not been aware needs to be done."
The Friday attacks, which left at least 129 dead and more than 300 wounded, dominated the meeting of leaders from the world's 20 biggest economies Turkey.
Sternlicht contributed $100,000 to Republican presidential candidate Jeb Bush's Right to Rise super political action committee in February, according to website OpenSecrets.org. As for fellow Republican candidate Donald Trump, Sternlicht said that while he doesn't agree with everything the real estate mogul says, he does speak some truths.
"We are rudderless in Washington," Sternlicht said.
On Tuesday, Sternlicht e-mailed the following comment: "Unfortunately my comments yesterday were cut off due to the end of the segment, but the point I was trying to make was presidential policies under this administration have contributed to the growing threat of international terrorism and allowed groups like ISIS to grow unabated, particularly in places like Syria. Had we confronted groups like these earlier when they were smaller and taken more seriously the threat they posed, incidents like those in Paris I believe could have potentially been avoided."
Before it's here, it's on the Bloomberg Terminal.
LEARN MORE