Steel Is the Poster Child For Oversupplied Commodity Markets, and It's in Shambles
Output has far exceeded demand.
By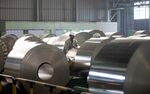 The collapse in oil prices following the shale revolution has stolen the limelight for investors mulling the end of the commodities supercycle.
But the real "poster child for problems in commodities markets is perhaps the global steel industry," according to Macquarie analysts led by Colin Hamilton, the firm's global head of commodities research.
The front-month contract for U.S. hot-rolled coil steel futures traded on the New York Mercantile Exchange is down nearly 40 percent year-over-year:

Forecasts for a boom in Chinese consumption helped spur a rise in production that left the segment with a massive glut. The successful realization of economic rebalancing in China, meanwhile, necessarily entails a material slowdown in that nation's demand for steel.
Macquarie observes that global steel consumption has contracted on an annual basis throughout 2015.
"With 1.6 billion tonnes of consumption globally, steel remains the lynchpin of industrial growth," wrote Hamilton. "However, the growth part of this equation is an increasing problem, and not only in China."
India, which has the potential to buoy demand for steel, is also contributing significantly to supply growth. Bloomberg Intelligence's Yi Zhu notes that 37 million metric tons of production capacity in India are currently under construction or in planning to be added.
"The only people who still seem to think there is significant upside in global steel consumption akin to the past decade are the major iron ore producers—for example BHP's belief global steel consumption will hit 2.5 billion tonnes by 2030—just a further 50 percent upside required there!" Hamilton wrote in a separate note.
Arguably, overcapacity across the commodity complex is a perverse side effect of years of near-zero interest rates and asset purchases by the Federal Reserve. Lower input prices, however, can have a silver lining. For example, the collapse in oil prices, in simple terms, represents a transfer of wealth from major oil conglomerates to consumers. The largest positive effects accrue to lower-income households that spend a heftier portion of take-home pay on energy costs.
"A world of cheap money not only sees new capacity built, it also means existing capacity doesn't disappear," explains Hamilton. "While most regions are well off their peak production levels over the last decade, permanent capacity closures have been few and far between."
The old adage of "the best cure for low prices is low prices" hasn't been able to come to fruition just yet, as low-cost credit has allowed even unprofitable production to be maintained—for now.
Capacity utilization in this industry has averaged below 80 percent for seven years, an unprecedented development, according to Macquarie:

Excess production is of particular concern to the world's second-largest economy, given the relative weakness of domestic steel producers' balance sheets. While many Chinese steel companies are able cover debt costs out of operating profits, a number of companies are heavily reliant on borrowing more from Peter in order to keep paying Paul:

"We are talking about an industry which expanded rapidly for demand which not only didn't come quickly, but increasingly looks like it might not come at all," concluded Hamilton.
China's Steel Industry PMI, along with the output and new orders sub-indexes, have lingered in contractionary territory since September of last year.
In light of the stress domestic producers are under, Bloomberg Intelligence's Zhuo Zhang and Kenneth Hoffman note that China could serve as ground zero for the rebalancing of the global steel market.
"A plunge in Chinese steel profits and a decline of about 5 to 8 percent in domestic steel demand may force many of the nation's steel mills to close or consolidate, removing exports from the global market and allowing prices to begin to recover," the pair wrote.
But the magnitude of the supply cuts required to bring the market back into balance makes this a daunting task, noted Hamilton in early November.
"To get 90 percent capacity utilisation, where steelmakers have decent pricing power, we would need circa 275 million tonnes mothballed, equivalent to Japan and Western Europe," he concludes. "This highlights the scale of the problem facing global steel."