Photographer: Mujahid Safodien/AFP/Getty Images
South Africa Cattle Slaughters May Climb 36% Due to Drought
by
KwaZulu-Natal already lost 40,000 cattle due to dry conditions

National slaughters may surge by 800,000 to 3 million
South Africa's worst drought since 1992 means farmers may have to kill 36 percent more cattle this year than planned, mainly because of a surge in slaughters in the water-scarce KwaZulu-Natal province, the Red Meat Producers' Organization said.
The national headcount for cattle is 13 million, 2.2 million of which get butchered yearly, Chief Executive Officer Gerhard Schutte said. An estimated 40,000 cows have already died in KwaZulu-Natal because of the drought, he said. A further 800,000 may have to be killed in the province alone, he said.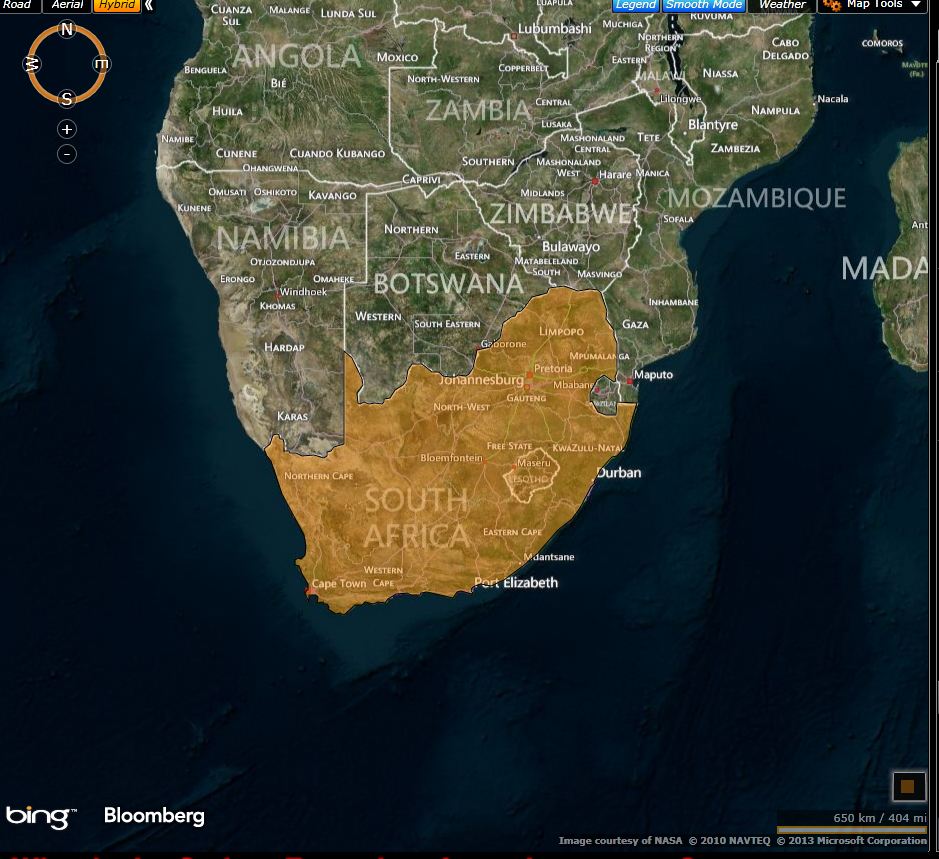 "This is not too far-fetched," Koos Dafel, the organization's chairman, said by phone on Friday. He has to sell 1,600 of his 3,500 sheep by the end of this week so that the rest can survive. "It will all depend on the drought and if it rains. Emerging farmers are hit the hardest by the drought."
A strengthening El Nino pattern bringing dry conditions to sub-Saharan Africa has prompted the South African weather service to predict below-normal rainfall for the next four months. The government declared disaster areas in nine of 11 districts in KwaZulu-Natal in February, which enables farmers to get aid. The province produces more than 80 percent of sugar in the country, the continent's biggest grower.
More than 500,000 people in the eastern province of KwaZulu-Natal are facing severe hunger and are at risk of disease as the drought continues, World Vision, a Christian humanitarian organization, said in October.
Livestock farmers will probably need cash to pay for feed as the dry weather conditions have left grazing lands ravaged, Agri SA, the biggest growers' lobby, said earlier this month.
Sugar is the nation's largest crop by quantity, according to the United Nations Food & Agriculture Organization. South Africa is the continent's biggest corn producer and will reduce 2016 season plantings of the grain to the smallest since 2011 because of poor rains in the main growing regions, according to the Crop Estimates Committee.
Before it's here, it's on the Bloomberg Terminal.
LEARN MORE