Rafale Fighters Lead French Raids on IS After Paris Attacks
by
Dassault jet adds to strikes in Afghanistan, Iraq, Mali, Libya

Mission in Syria comes as U.A.E. weighs 60-plane order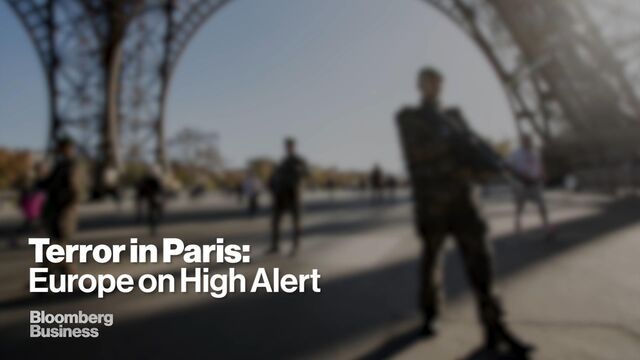 French bombing sorties against Islamic State targets in Syria following the terrorist attacks in Paris have provided a further platform for the Dassault Aviation SA Rafale warplane to burnish its combat credentials.
Raids on IS targets in the city of Raqqa identified as a training camp and arms depot saw the use of six Rafales and four Mirage 2000 jets in an action coordinated with U.S. forces, according to the French defense ministry.
The missions will add to the Rafale's reputation as a battle-hardened design after its deployment in Afghanistan, Libya, Iraq, Mali and the Central African Republic since 2007. The plane has already enjoyed a recent string of overseas order successes and the Syrian sorties could aid further deals.
While Dassault can pitch the Rafale as combat-proven, the rival Eurofighter Typhoon built by Britain, Germany, Spain and Italy, has seen more limited use. Conceived toward the end of the Cold War as the supreme dogfighter, it's only now acquiring the latest weaponry for air-to-ground strikes, including Brimstone and Storm Shadow missiles from European venture MBDA.
U.A.E. Deal Close
While the Typhoon saw active engagement with Britain's Royal Air Force in Libya in 2011, bombing runs were allocated to Panavia Tornados designed in the 1970s.
Dassault Aviation began handing over the Rafale -- like the Eurofighter a twin-engine, delta-winged model that reach 1,500 miles per hour -- to the French military in 2006, but only in the past year has it tasted export success. Egypt said in February it would buy 24 jets, with India announcing a deal for 36 in April and Qatar taking 24 in May.
A U.A.E. deal for 60 of the combat jets may come next after senior government officials said last week that a deal is close following seven years of talks. Other potential buyers include Malaysia. The Rafale competes with planes from Boeing Co., Lockheed Martin Corp. and Saab AB, as well as Eurofighter.
BAE Systems Plc, Europe's biggest defense company and a partner in MBDA, as well as Eurofighter, gained as much as 2.5 percent in London, while Thales SA, which has a 25 percent work-share on the Rafale and also services the aircraft, advanced as much as 2.6 percent. Dassault rose 0.6 percent.
Before it's here, it's on the Bloomberg Terminal.
LEARN MORE