Paris Terror Threatens Recovery as Tourists Find Doors Shut
by , , and
Attackers hit as France starts to emerge from economic slump

`We spent a lot of money and can't do anything we'd planned'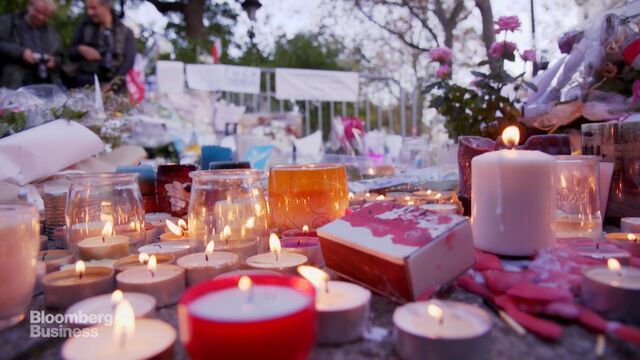 With the Eiffel Tower, the Louvre and many stores shuttered, Friday's carnage in Paris risks chilling France's nascent economic recovery as tourists fret about safety and some executives fear enduring implications for business.
What should have been a busy weekend of shopping and sightseeing in the run-up to the holiday season turned eerily quiet after the attacks. A major photography fair closed its doors; U2 and the Foo Fighters scrapped planned Paris concerts; The Eiffel Tower remains closed until further notice.
While the disruptions will be temporary, France can scarcely afford any significant interruption in the stream of visitors entering the country. It is the world's most-popular tourist destination, with foreigners spending over 42 billion euros ($45.3 billion) in 2013, the Ministry of Foreign Affairs says.
"Everyone seems to be on the brink of crying," said Ian Plaistowe, a 62-year-old from Yorkshire, England, visiting Paris for a long weekend. "We just have to look at the places we wanted to see from the outside."
Three coordinated groups of terrorists linked to the Islamic State militant group struck a half-dozen locations in Paris on Friday, riddling bars and cafes with bullets and killing almost 100 in a concert hall. It's the second such drama in the city in less than a year, after French-born gunmen killed 17 in January in attacks at Charlie Hebdo magazine and a kosher supermarket.
Empty Tables
The Marais, a medieval neighborhood of narrow streets that is the city's historic Jewish quarter, was relatively uncrowded despite unseasonably warm weather on Sunday. Instead of the typical throngs of shoppers, camouflage-clad soldiers patrolled the streets and stood guard at various locations. The Hotel Turenne, a 41-room hostelry in the district, says it saw 20 cancellations.
"As soon as there is terrorism, it affects tourism and commerce," said receptionist Malika Naak. 
Investors are making a similar prediction. Shares of hotel operator Accor SA fell the most since August on concerns about the travel sector on Monday morning, dropping as much as 9.3 percent. Air France-KLM dipped as much as 7.2 percent.
On the Boulevard Haussmann on Saturday, tourists admired the elaborate window displays at the Printemps and Galeries Lafayette department stores, but they couldn't get in. Both had shut down, as had other large stores in one of Paris's main shopping districts.
On Sunday, lunchtime tables sat empty at the cafes and bistros lining the usually bustling Avenue des Champs-Elysees. At Café de la Paix across from the Opera Garnier, a security guard searched guests' bags. At the Louvre museum, tourists were restricted to taking photos from behind a metal barrier under the watchful eye of armed police.
"We spent a lot of money and aren't able to do anything we'd planned," said Daniel Boshoff, a 37-year-old from Johannesburg who said a planned open-top bus ride to take in the sights had been canceled. "It's a bit of a knock."
The Lido burlesque theater on the Champs-Elysees is dark, and some tourist boats on the Seine stopped sailing until Tuesday. Kering SA shut boutiques of brands like Gucci and Bottega Veneta. Disneyland Paris closed for the first time in a decade-and-a-half and said it won't reopen until Wednesday.
Even when shops finally roll up their shutters again, the violence "could certainly have a significant negative impact on consumer confidence in the near term at least," said Howard Archer, chief European economist at researcher IHS Inc.
France's economy is anemic, with consumer spending and wages only just picking up after repeated efforts by the government of president Francois Hollande to spur growth. Gross domestic product climbed 0.3 percent in the third quarter, but manufacturing output was stagnant in September and barely grew in the quarter.
Goldman Sachs economists said in a note to clients that the violence will probably have a short-term negative impact on stock markets, which are already "volatile and fragile" because of concerns about global growth. In the longer run, the political implications of a greater terror threat, like a boost to the hard-right Front National party, could also make markets jittery, they said.
Foot Soldiers
Eric Meyer, head of the French unit of investment bank RBC Capital Markets, said the effect could go beyond France as the attacks show how hard it is to control rogue terrorists.
"All you need is three to four foot soldiers and an underground bad guy," Meyer said. "That's all it takes."
Fear will affect businesses beyond the tourist and retail sectors. A senior executive at a global investment bank said clients from Asia canceled a planned trip after their company instructed them not to come due to the attacks. The banker asked to remain anonymous discussing client matters.
Yet even as businesspeople, like other French citizens, cope with the impact of Friday's violence, some are pledging to get back to normal as soon as possible.
"This represents an enormous psychological trauma for the French people," said Olivier Pecoux, co-chief executive officer of investment bank Rothschild & Co. But "the messages and exchanges I'm seeing show a united front in the face of this drama."
Delphine Küng, a visitor from Switzerland wheeling her suitcase down a Marais street shortly after arriving in Paris, would agree.
"We came with mixed emotions," Küng said. "But this kind of thing can happen anywhere."
Before it's here, it's on the Bloomberg Terminal.
LEARN MORE