Five Things Everyone Will Be Talking About Today
Time to get caught up on what matters in markets
By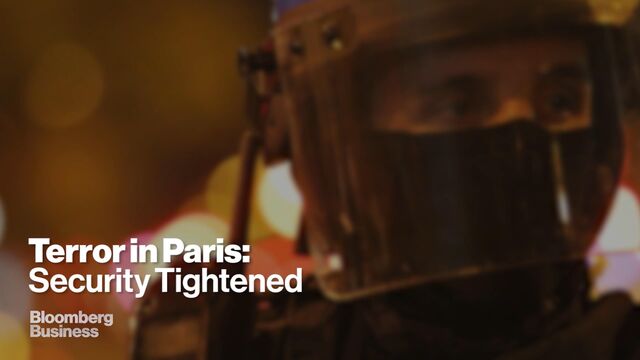 Markets react to the attacks in Paris, IMF staff recommend yuan inclusion in the SDR basket, and Japan is back in recession. Here are some of the things people in markets are talking about today.
Paris attack
Friday's terrorist attacks in Paris have not led to any immediate major market dislocation. There have been some signs of a flight to safety, as prices of U.S. Treasuries and gold rose while European stocks sold off at the open. However, stocks recovered as the morning progressed, with the CAC 40 Index in Paris down only 0.1 percent at 10:45 a.m. London time and the Stoxx Europe 600 gaining 0.2 percent. After starting in the red, U.S. futures are now pointing to a higher open when trading begins in New York.
Yuan inclusion in SDR basket
On Friday the IMF said that its staff had recommended including the yuan in its Special Drawing Rights reserve-currency basket, making the inclusion at the November 30 board meeting all but certain. The approval would mark a major milestone for the yuan and should boost the Chinese bond market while obliging President Xi Jinping to push ahead with efforts to loosen capital controls.
Japan is back in recession
Japan has fallen into its second recession since Prime Minister Shinzo Abe took office in December 2012 with GDP declining an annualized 0.8 percent pace in the three months ending September 30. This was well below economist expectations for a 0.2 percent decline. Investors looked to the large drop in inventories, which contributed much of the miss, as a sign that the Japanese economy may be set to stage a recovery as companies should need to increase output soon. The Nikkei 225, which has been one of the best global performers since its Sept. 29 low, closed down 1 percent. 
Euro-area inflation
Euro-area inflation rose 0.1 percent in October, Eurostat said this morning. This is higher than Eurostat's initial flash estimate of 0.0 percent. Core inflation was also higher in October, rising to 1.1 percent. That may come as a surprise to markets considering ECB President Mario Draghi's comments at the European Parliament last week where he said the outlook for core inflation has "somewhat weakened."
Weird markets
There is something strange happening in markets. In fixed income, the conventional relationship between government debt -- long considered the risk-free benchmark -- and other assets has been turned upside-down, as seen in U.S. five-year swap spreads turning negative. The world's biggest financial market - the FX market - is seeing spreads widening for all but the very biggest currencies. Across financial markets, things that shouldn't be happening seem to be happening a lot at the moment. With a month still to go before the Federal Reserve makes its decision on whether to raise rates or not, and as the end of the fourth quarter looms, there is likely to be more oddness ahead.
What we've been reading
This is what's caught our eye over the weekend.
Want to receive this post, and more, into your inbox every morning? Sign up here