German-Dutch Soccer Game Canceled Over Stadium Bomb Threat
by and
Show of defiance after Paris terror attacks scuttled

Merkel never close to stadium while London match goes ahead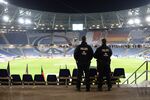 A bomb threat led Germany to cancel a soccer game with the Netherlands that Chancellor Angela Merkel and members of her Cabinet planned to attend, widening Europe's terror alert after the attacks in Paris that left at least 129 dead.
The game in Hanover, intended as a show of solidarity after the carnage in France, was called off about 90 minutes before kickoff Tuesday after "we received a tip that a bomb attack was planned inside the stadium tonight, which we took seriously," city police chief Volker Kluwe said on Germany's ARD television.
No explosives were found and no arrests were made, Lower Saxony state Interior Minister Boris Pistorius told reporters in Hanover. Federal Interior Minister Thomas de Maiziere said the decision to cancel took shape while he and Merkel were on a plane to Hanover, which turned around after landing and brought the chancellor back to Berlin.
In Belgium, the government raised the threat level throughout the country and canceled the national team's soccer game with Spain also scheduled for Tuesday. An exhibition game between France and England kicked off as scheduled in London with an increased number of armed police guarding about 80,000 fans at Wembley stadium.
"We are not prepared to fundamentally change our way of life," de Maiziere told reporters in Hanover, declining to specify the nature of the threat. "Nonetheless, one has to make an assessment in each individual case concerning the protection of the public."
Hanover police urged fans in a Facebook posting to go home "quickly, but without panic" and police vans surrounded the 49,000-capacity stadium. Dutch television showed government ministers Edith Schippers and Jeanine Hennis-Plasschaert being led out of the stadium. The German team was diverted by police on its way to the stadium and taken to a "secure location," spokesman Jens Grittner said in a Twitter posting.
England Game
At Wembley, England supporters joined in singing France's La Marseillaise anthem with the words displayed on screens. Players from both teams wore black armbands and before the kickoff stood together with their arms around each other. A minute's silence was held with the players in a circle in the middle of the pitch. Attending were Prime Minister David Cameron and Prince William, who laid flowers on the pitch beforehand.
"Our people stand together, and as they have done so many times when faced with evil, once again we will prevail," Cameron said in Parliament before the game.
After the Paris attacks, the German Soccer Association voted unanimously on Sunday to hold the exhibition match in Hanover as planned. The stadium where the German team was playing against France on Friday night in Paris was one of the targets in the assaults.
German Team
Three of the attackers, who struck simultaneously in seven locations in the French capital, blew themselves up outside Stade de France. French President Francois Hollande and German Foreign Minister Frank-Walter Steinmeier were among the crowd of 80,000 watching that game.
"That our team has to deal with such tragic events for the second time in four days exceeds my powers of imagination," Reinhard Rauball, the German association's interim head, said at the Hanover news conference.
Before it's here, it's on the Bloomberg Terminal.
LEARN MORE