May the Schwartz and the Kimchi Be With These Gala Honorees
by
"Spaceballs" star Bill Pullman gets a nod from theater group

"Hangover" star Ken Jeong is mobbed at Korean-American gala
Playing Lone Starr in "Spaceballs", the Mel Brooks spoof, might have been enough reason for New York Stage and Film to honor Bill Pullman Sunday night, a month before the release of the latest Star Wars movie.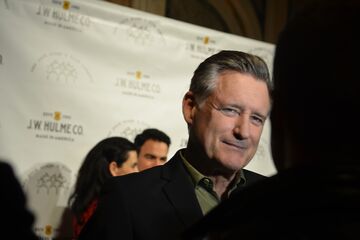 But not only has the Schwartz been with Pullman, he's also played Jamie Dimon in "Too Big to Fail" (Dimon "ought to have his own movie," Pullman said at the time); Daryl Zero, the detective with the floppy hair in "Zero Effect"; a paramour of Meg Ryan in "Sleepless in Seattle"; and the president of the United States in "Independence Day."
Pullman, who filmed the sequel to "Independence Day" this summer, reported that the current president is a woman and that some of his lines he cribbed (by accident, apparently because they were so good) from a play he developed at a New York Stage and Film Powerhouse Summer Theater Season at Vassar College.
Not all of the nonprofit's nurturing ends up in a big action film, but it has led to the musical "Hamilton" as well as "Bright Star," Steve Martin and Edie Brickell's show heading for Broadway in February.
Artistic Director Johanna Pfaelzer said it was difficult to hold the gala in light of the terrorist attacks in Paris, which had occurred two days earlier. In the end, "this process of gathering people under one roof in service of a group experience, that's what theater is: if we can get together, then we're doing something."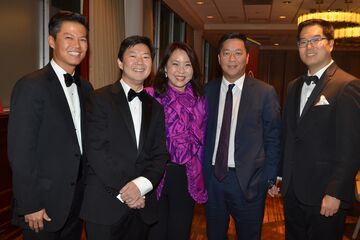 Playing Mr. Chow in "The Hangover" made Ken Jeong famous for the dubious distinction of jumping naked out of a trunk in Las Vegas. It also led, at least in part, to the Korean American Community Foundation honoring him last week.
Though Joseph Bae, a partner at KKR & Co., gave his parents another explanation when he invited them: "I told them Ken Jeong's a doctor," Bae said.
Bae would never lie to his parents: Jeong is a doctor, who ditched practicing medicine to pursue acting full time -- and is now playing one in an ABC sitcom, "Dr. Ken."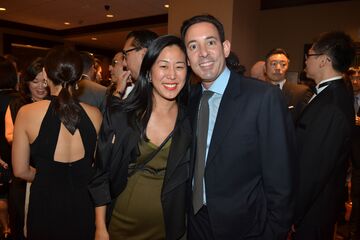 As he carefully noted in his acceptance remarks, he did this only after he'd married, had a family and was "mature enough to handle the pressures of show business" -- and only after his wife had urged him to try it and his parents had declared their unconditional support.
Go figure: even in rebellion, Jeong remained the good son.
No wonder so many guests requested a photo with him, including Bae's wife, novelist Janice Y.K. Lee, who posted hers on Twitter.
But the event wasn't only about Jeong's success.
Earning kvelling rights were the parents of Alex Chi, a partner at Goldman Sachs, and Michael Chung, a founding partner of Arrowgrass Capital Partners, who is set to begin a new role as deputy global head of equities at Millennium Management in March.
As event chairmen, the duo steered the fundraising total to $1.6 million, a record. One coup: securing a live auction package featuring a meal with Anthony Bourdain, prepared by chef Deuki Hong of Kang Ho Dong Baekjeong in New York's Koreatown. It went for $60,000.
Chung said his choice to get involved in a Korean-American organization came after many years of resistance. "I forced myself into mainstream America," Chung said. "I almost avoided Korean Americans."
His "switch" happened seven years ago. Seeing some of his closest friends and family members suffer in the financial crisis made him realize how blessed he is and how important it is to not take one's resources for granted. That year, founding Arrowgrass, he and his partners began discussing where to focus their philanthropy. Chung felt a calling to those of similar heritage to his own. "We are mainstream America, and we should get together at events like this, and leverage each other, to collect resources and give back," Chung said.
Chung found a good fit at The Korean American Community Foundation, which seeks to build a culture of philanthropic identity -- and to make a real impact -- by helping the less fortunate. Chung said he's proud of a grant that brought on a social worker at Big Brothers Big Sisters to recruit and work with Koreans as mentors and mentees. Another deployed a nonprofit consultant to work with various grantees on board development, strategy and financial management.
The keynote was given by a Korean -- United Nations Secretary-General Ban Ki-Moon, who echoed the foundation's theme of empathy. "Being a global citizen means showing global solidarity with billions of people," he said. Speaking two days before the awful events in Paris and a day before another terror attack in Beirut, he also warned that the world is a dangerous place.  
Yet he also showed that humor helps in the face of dire circumstances: When he met Daniel Craig, whom he named the UN global advocate against landmines, he called him 007; Craig, in return, dubbed the secretary-general 008, as he's the eighth to hold the post.
The event co-chairs also had their funny moments, teasing one another at the lectern.
"At last year's event, my wife said to me, 'That guy Alex -- he looks like Bruno Mars. Is he even Korean?'" Chung said.
"Very funny," said Chi. "First of all, I am Korean. And judging from your performance trying to translate for our singer last year, I think everybody knows who actually speaks better Korean."
Before it's here, it's on the Bloomberg Terminal.
LEARN MORE