Japan Post Asset Shift Seen Near End Just as Kuroda Needs Bonds
by and
BOJ "is like a whale splashing about in a puddle of water"

Post Bank said it doesn't intend to drastically cut JGBs
Japan Post Bank Co.'s record selling of domestic government bonds is seen nearing an end, just as the Bank of Japan needs to buy more sovereign notes to stimulate the economy.
The bank unit of the nation's postal service reduced Japanese government bonds to a record low 92.8 trillion yen ($752 billion), or 45 percent of holdings, September data released last week showed. That brings debt held by the country's largest deposit holder in line with the ratio at other banks, according to Merrill Lynch Securities Co. Japan Post can cut holdings by letting short-term securities mature rather than selling, said UBS Group AG.
"There's going to be less and less room for them to reduce bonds," said Yusuke Ikawa, Tokyo-based strategist at UBS. "And the number of sellers that will allow the BOJ to continue its easing program will gradually decline."
Japan Post Bank's position as the biggest holder of sovereign debt after the BOJ makes it crucial for the central bank's success in sustaining bond-buying stimulus. While the monetary authority's Governor Haruhiko Kuroda has said he can keep buying notes until his 2 percent inflation target is reached, investors have voiced concerns trading will dry up in the world's second-largest debt market without more supply.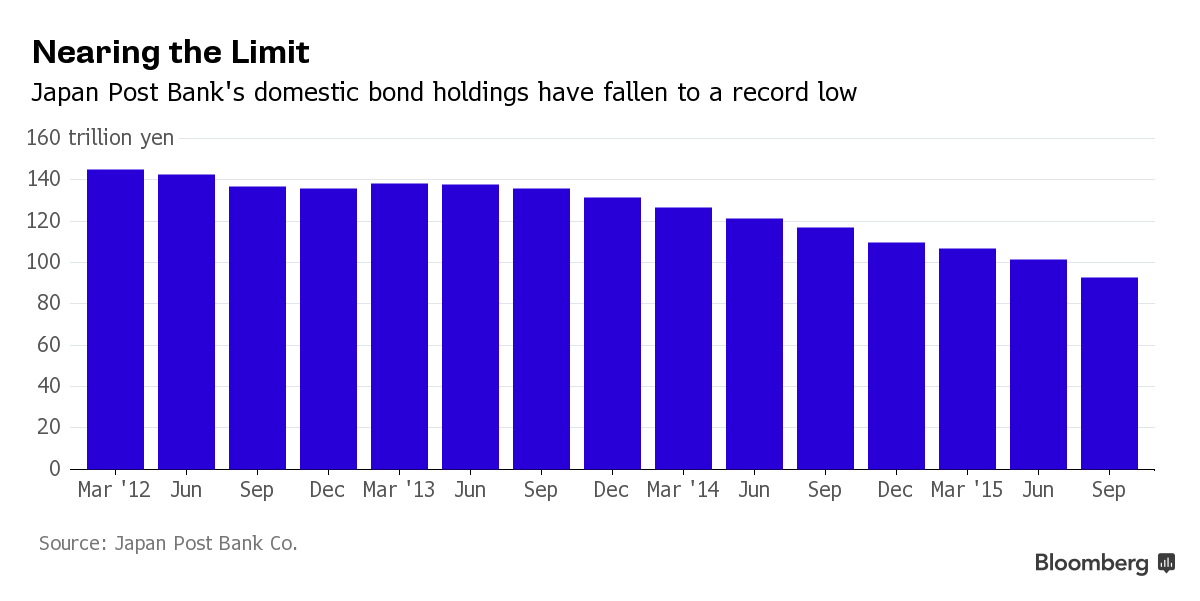 Japan Post Bank held as much as 82 percent of assets in JGBs at the end of 2009, based on available data going back to the previous year. It has since reduced its ratio in the security almost every quarter, bringing them to below 100 trillion yen for the first time.
The postal service bank held about 67 percent of its portfolio in Japanese and foreign bonds and loans at the end of last quarter. That compares to about 70 percent at other domestic lenders at the end of March, according to the Japanese Bankers Association.
"Japan Post Bank's holdings are basically at the same level" as other banks now, said Shuichi Ohsaki, Merrill Lynch's chief rates strategist in Tokyo. "Deposits at Japan Post Bank are yen-based, so it's absolutely necessary for them to keep safe assets in the local currency" so that they can quickly liquidate their positions, he said.
The postal bank's President Masatsugu Nagato said in an interview published Nov. 4 that while it doesn't plan on increasing JGBs, it also doesn't intend to drastically reduce them.
Exiting Quickly
"We need a market that is stable and, if needed, we can exit out of really quickly," Nagato said at the time. "JGBs, like U.S. Treasuries, are highly liquid. Treasuries have a currency risk but we don't with" Japanese sovereign debt, he said. Japan Post will boost its allocation to shares "a little," the president said.
Stocks made up about 1 percent of Japan Post's total assets, far below the 25 percent targeted by the $1.2 trillion Government Pension Investment Fund, the world's biggest of its kind. GPIF held 38 percent of its assets in domestic bonds at the end of June from 52 percent a year earlier.
Nagato said that a major difference between Japan Post Bank and GPIF is that his company's liabilities are mostly made up of deposits rather than long-term pension money, meaning it has a shorter investment horizon. The bank will seek returns by putting deposits into managed funds, "not by holding 25 percent in stocks like GPIF," according to the chief.
Extreme Shift
"Japan Post Bank's current holdings in Japanese stocks are so low that they'll probably increase it slowly," said Naoki Fujiwara, chief fund manager at Shinkin Asset Management Co. in Tokyo. "But it's unlikely it'll be an extreme shift."
The benchmark Topix stock index has gained 13 percent this year, while the 10-year JGB yield has declined 24 1/2 basis points to 0.3 percent from its 2015 high in June. The benchmark yield plunged to a record low of 0.195 percent in January after the central bank expanded already unprecedented stimulus in October 2014.
Japanese banks had about 80 trillion yen of bonds suitable for BOJ purchases, but now they only have about 50 trillion yen, indicating the central bank will deplete its options by the end of next year, said Takashi Miura, an analyst at Credit Suisse Group AG.
The BOJ will have to increase its pace of bond buying to 10 trillion yen per month next year, about 700 billion yen to 800 billion yen more than the current amount as the securities it owns begin to mature, Merrill Lynch's Ohsaki said.
"The BOJ is like a whale splashing about in a puddle of water," Ohsaki said. "Monetary easing has started to feel like it's done as much as it can do."
Before it's here, it's on the Bloomberg Terminal.
LEARN MORE