FanDuel Asks Judge to Block N.Y. Attorney General's Shutdown Bid
by
N.Y. sues DraftKings, FanDuel to block daily fantasy games

Judge had set Nov. 25 hearing over operations of games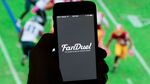 FanDuel Inc. and DraftKings Inc. may know by Thanksgiving whether the holiday will bring feast or famine for their daily fantasy sports players in one of the business's biggest U.S. markets -- New York state.
The companies and New York's attorney general are set to square off before a judge in Manhattan on Nov. 25 to argue whether the fantasy games should be shut down immediately because they're a form of illegal gambling, or whether they should keep operating as they've done for more than a decade until the issue is determined at trial.
New York Attorney General Eric Schneiderman sued FanDuel and DraftKings Tuesday to halt the games after Judge Manuel Mendez declined the companies' request for a temporary order prohibiting his office from forcing the shutdown. The judge said the restraining order wasn't necessary since an emergency hearing will be held next week.
If their daily fantasy sites are blocked on Nov. 25 their clients in New York won't be able to field lineups the next day, when the National Football League holds its annual Thanksgiving Day contests. FanDuel told users in New York Friday that they won't be able to make new deposits, while DraftKings said it's still operating.
Schneiderman told both companies in a Nov. 10 letter to cease operations in the state. They responded by suing the attorney general last week, and asking Mendez to rule that their operations aren't illegal gambling or bookmaking, declare their advertisements aren't misleading, and block Schneiderman from enforcing his order.
DraftKings and FanDuel run "a casino-style gambling operation," Schneiderman said in the lawsuits filed Tuesday. The games "have ensnared compulsive gamblers and threaten to trap populations at greater risk for gambling addiction, particularly male college students."
Irreparable Harm
FanDuel said the attorney general's action is causing "incalculable, immediate and irreparable harm" to its business.
"If FanDuel is not able to restore the ability of its New York customers to deposit money to enter fantasy sports contests, FanDuel will not only lose the revenue from those particular deposits but also risk losing the good will and continued business of some of those customers," the company said in a court filing Monday. The company also said it risked losing customers to competing sites not targeted by Schneiderman's order.
DraftKings said in court filings that the "shocking overreach" of the attorney general has already led a Massachusetts court to issue a temporary restraining order that will allow one of its payment processors to keep operating in that state.
The sites have accused Schneiderman of using bullying tactics and abusing his powers.
The cases are FanDuel Inc. v. Schneiderman, 161691/2015, New York State Supreme Court (Manhattan); and DraftKings Inc. v. Schneiderman, 102104/2015, New York State Supreme Court (Manhattan).
Before it's here, it's on the Bloomberg Terminal.
LEARN MORE