business
Eton Park's Mindich Raises Options Bet on Japan to $876 Million
By
Hedge fund holds options on 18 million WisdomTree Japan shares

Japanese positions helped fund report 4.5% October gain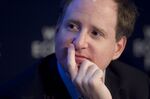 Eton Park Capital Management, the hedge fund firm managed by Eric Mindich, built an $876 million stake in Japanese stocks by purchasing additional call options on an exchange-traded fund.
Eton Park disclosed in a regulatory filing today that it held options to purchase 18 million shares of the WisdomTree Japan Hedged Equity Fund as of Sept. 30. That represents a fourfold increase from the 4 million options that Eton Park held at the end of June.
The $876 million figure equals the market value of the shares covered by the options as of Sept. 30. Since then, the value of the shares has increased about 13 percent to $990 million.
Eton Park's positions in Japan helped its main fund generate a 4.5 percent gain during October, a person with knowledge of the matter said earlier this month. The fund's October gains, which coincided with a surge in U.S. stocks, left it with a 9.2 percent return for the first ten months of this year.
The hedge fund's options equal about 5.8 percent of the ETF's shares outstanding, according to data compiled by Bloomberg. A call option conveys the right to purchase a specific number of shares in the future at a set price.
Dividend Payers
The WisdomTree Japan Hedged Equity Fund invests in dividend-paying companies incorporated in Japan and listed on the Tokyo Stock Exchange. The ETF held 315 stocks as of Nov. 13, with its largest positions comprised of stakes in Toyota Motor Corp., Mitsubishi UFJ Financial Group Inc., and Japan Tobacco Inc.
The New York-based hedge fund, which oversees about $9 billion, reported its WisdomTree stake in a Form 13F filed today with the U.S. Securities and Exchange Commission. Because the report only lists equities that trade on U.S. exchanges, it's unclear whether Eton Park also owns Japanese stocks that are listed in Tokyo.
Jonathan Gasthalter, an Eton Park spokesman who works for Sard Verbinnen & Co., declined to comment.
— With assistance by Simone Foxman
Before it's here, it's on the Bloomberg Terminal.
LEARN MORE