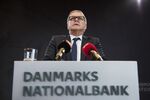 After breaking with tradition and delivering four rate cuts in defense of its euro peg, Denmark will probably be lining up behind Mario Draghi again next month.
Denmark, which uses monetary policy to keep the krone pegged to the euro, this year had the longest run since 2010 of moving independently of the European Central Bank. To keep the krone steady, its central bank deployed a raft of responses that helped it win a battle against speculators hoarding kroner in anticipation it would be forced to abandon its peg.
With the ECB president now signaling he's ready to boost stimulus, economists say that Denmark's decisive victory will allow it to return to its traditional method of following moves in the euro zone.
"The central bank prefers to mirror the ECB as closely as possible because that eliminates any speculation there may be in the market," said Jan Stoerup Nielsen, chief analyst at Nordea in Copenhagen. "In real terms, the Danish central bank aims to make the krone so boring that nobody pays attention to it."

Denmark's first line of defense if lower ECB rates or bond buying attract too much -- or even a little -- investor interest will be to sell kroner to keep it steady. Money market prices already show expectations the krone will appreciate after the ECB's December meeting, Stoerup Nielsen said.
It's unlikely to cut its benchmark deposit rate any lower than the current minus 0.75 percent, economists at Danske Bank, Nordea and Svenska Handelsbanken AB say.



"The Danish policy rate is probably as low as it should go," said Arne Lohmann Rasmussen, head of fixed income research at Danske Bank. "Using currency interventions is the easiest way to manage Denmark's currency peg and besides, adding to Danish currency reserves works like QE because it adds krone liquidity."
That means Draghi and Denmark central banker, Lars Rohde, could move closer together on policy rates. Should Draghi's moves cause persistent pressure on the krone, the two will even converge on the issue of bond buying, according to Nordea's Nielsen.
"It was very unusual that the Danish central bank chose to cut bond issuance instead of doing QE earlier in the year,'' Nielsen said. ``Mirroring the ECB would have been the usual move. This time, if there's a sudden move on the krone, they'll start buying bonds to tell the market there's nothing to gain speculating against them."
Before it's here, it's on the Bloomberg Terminal.
LEARN MORE