China Roller-Coaster Market Ride Rewards Hedge Funds Who Held On
by and
Greenwoods, Marco Polo funds posted double-digit returns

Funds outperformed as oversold stocks rebounded on policies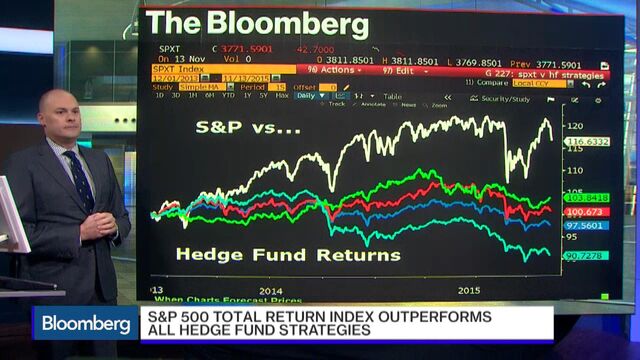 The great China roller-coaster stock market ride is on an upswing, and it's rewarding those hedge funds that hung on.
QuickTake China's Managed Markets
Greenwoods Asset Management and Marco Polo Pure Asset Management were among hedge funds that posted double-digit gains in October after they added stocks or held on to shares they deemed oversold following China's market rout and benefited from a rebound. The managers stood out as the Eurekahedge Greater China Hedge Fund Index climbed 5.2 percent on average in last month, trailing the 11 percent surge in the Shanghai Composite Index and the Hang Seng China Enterprises Index as many hedge funds stayed on the sidelines.
While China-focused hedge funds as a group last month posted the strongest returns since April, many stayed cautious following losses over the summer. The Eurekahedge gauge lost almost 19 percent between June and August amid a rout that wiped $5 trillion off China's stock market value at one point as growth concerns mounted and excessive borrowing unwound.
The market rebounded as the government has taken unprecedented steps to stimulate growth, including cutting interest rates, mortgage down-payment requirements, the tax on car purchases, and the amount of reserves banks must put aside for deposits.
Greenwoods' Gain
"Our core holdings, which were oversold by macro-driven investors in July and August, came back strongly," Joseph Zeng, a partner at Shanghai-based Greenwoods, which oversees about $7 billion of assets.
The $1.9 billion Greenwoods Golden China Fund rose 11 percent last month, taking this year's return to 19 percent, according to an update sent to investors. The largest contributors to returns included Chinese Internet companies and property developers, Zeng said. The hedge fund was also bolstered by China-listed "blue-chip" stocks such as spirits-maker Kweichow Moutai Co. and household appliances maker Midea Group Co.
"We believe the China equities market has stabilized," said George Jiang, the founder and chief investment officer of Greenwoods, whose Golden China Fund is 11 years old. "We're positive about high-quality Chinese companies with defensive earnings growth."
Marco Polo
The Marco Polo Pure China Fund gained almost 11 percent in October, reversing four consecutive months of losses, said Aaron Boesky, chief executive officer of Hong Kong-based Marco Polo Pure Asset Management, which oversees more than $100 million. The fund, which focuses on yuan-denominated class-A shares listed in China, rose another 6.5 percent this month through Nov. 9, extending this year's gain to 26 percent.
Marco Polo benefited as better-than-expected third-quarter results buoyed Internet and telecommunications companies, Boesky said. Its bet on political and military tensions in the South China Sea boosting military stocks also paid off, he said. Profitable investment themes include government policies to promote the use of electrical vehicles, public health as well as the rise of online education, he added.
The Springs China Opportunities Fund surged 12 percent in October, taking this year's return to 21 percent. The month's return was driven by a rebound in China and Hong Kong-listed stocks such as those in the technology, manufacturing and cyclical industries amid supportive government policies, which improved investor sentiment and liquidity, said Jenny Tian, a Hong Kong-based partner of Springs Capital, which oversees more than $5 billion.
Top Ace Capital Management's Scienart Advantage Fund, with more than $160 million of assets, returned 7.4 percent in October and 19 percent in the first 10 months, according to two people with knowledge of the matter. Top Ace is led by Chief Investment Officer Wang Yawei, a former manager of China Asset Management, one of the nation's largest mutual fund companies.
Before it's here, it's on the Bloomberg Terminal.
LEARN MORE