Cameron Defends U.K. Engagement With Human Rights Abusers
by
Premier's speech follows challenges from Labour leader Corbyn

Cameron sets out policy hours after meeting Putin at G-20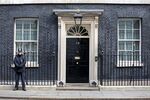 U.K. Prime Minister David Cameron defended his dealings with governments that abuse human rights, as he set out a diplomatic and security policy that he said represents the best way of dealing with terrorism.
In a speech in London, the prime minister offered a series of challenges to his critics. Though he didn't mention him by name, the target was clearly Jeremy Corbyn, the newly elected leader of the opposition Labour Party and a decades-long opponent of British foreign policy, especially its military interventions.
"It is a strategic choice to engage with countries where we have concerns," Cameron said. "But my view is this. You can't conduct foreign policy by press releases and pious statements in Parliament. You have to engage and build the alliances that can make a difference."
The speech came hours after he held meetings with Vladimir Putin of Russia and King Salman of Saudi Arabia on the sidelines of the Group of 20 summit in Antalya, Turkey. In the last month, Cameron has also entertained Chinese President Xi Jinping, Indian Prime Minister Narendra Modi and Egyptian President Abdel-Fattah El-Sisi. Each of those visits prompted protests.
Relations with Putin froze over following Russia's intervention in Ukraine's civil war, and the 2014 downing of a passenger jet over Ukrainian territory. The rise of Islamic State since then has forced a thaw, with Britain saying that a bomb was responsible for the destruction of another passenger plane, this time a Russian one, over Egypt last month. Putin was the subject of intense diplomacy at the G-20 as other leaders sought to find common ground with him over fighting Islamic State.
Corbyn's Jibes
Corbyn has particularly focused his fire on British policy toward the Saudis. In his first speech as leader to Labour's annual conference in September, it was the first country he mentioned. He said it damaged Britain's national security to "give such fawning and uncritical support to regimes like Saudi Arabia and Bahrain, who abuse their own citizens and repress democratic rights."
In response, Cameron said his policy gained him influence.
"Is anyone really saying that I shouldn't talk to the Egyptians on the day after an airliner is blown up in their country and when it is Britain's national interest that we support their airport security and get our own people safely home?" he asked. "The people who wanted me to raise the dumping of cheap steel with the Chinese are also often the same people who say I shouldn't meet the Chinese."
Still, opponents of U.K. engagement with Saudi Arabia aren't confined to the Labour Party. In October, the government dropped out of a contract to offer training to the Saudi prison service after Justice Secretary Michael Gove blocked the deal.
Before it's here, it's on the Bloomberg Terminal.
LEARN MORE