Belgium Raises Terror Threat Level, Deploys More Soldiers
By and
National soccer team's match against Spain cancelled

Two suspects charged with taking part in Paris attacks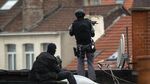 Belgium raised the terror threat level for the whole country and is deploying extra soldiers to help the police after the deadly attacks in Paris.
The government in Brussels increased the threat level to 3 or "serious, probable" from "moderate, less probable" throughout the country. It also canceled the national soccer team's game Tuesday night against Spain. On Saturday, the day after 129 people were killed in the French capital, the Belgian authorities raised the terror threat for sports or cultural events drawing large crowds.
Belgian Prime Minister Charles Michel's office said on Tuesday that as many as 300 additional soldiers will be deployed in the country, mainly in large cities. The police will determine exact locations for deployments. Belgium already has 220 soldiers on the streets to help protect key buildings such as embassies and European Union institutions.

On Monday, Belgian prosecutors charged two suspects detained after the assaults in Paris with taking part in a terrorist attack.
Five of the seven suspects detained on Saturday were released by the investigating judge, the federal prosecutors' office said. The remaining two, whose identities weren't revealed, were held on charges of terrorist attack and participation in activities of a terrorist group, prosecutors said.
French officials believe the Nov. 13 attacks in Paris were directed by Islamic State in Syria using extremist cells located in Belgium, where police on Monday were looking for Salah Abdeslam, a 26-year-old suspect and brother of one of the suicide bombers. A search in the Brussels district of Sint-Jans-Molenbeek on Monday didn't lead to any new arrests.
Belgium began deploying military forces in January to assist the police with security after terrorist attacks at satirical magazine Charlie Hebdo in Paris.