Asian Airlines Fall on Fear Paris Attacks Will Curb Tourism
Bloomberg News
Impact on Chinese tours to France could last a year, CICC says

Hong Kong issues amber alert on travel to French capital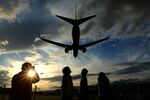 Shares of airline operators across Asia tumbled on worries that the deadly terrorist attacks in Paris will deter tourists from traveling to the French capital.
Eva Airways Corp. of Taiwan dropped 5.4 percent Monday to NT$17.50, while China Southern Airlines Co. was down 2.1 percent in Hong Kong to HK$5.94. China Eastern Airlines Corp. and Hainan Airlines Co. declined 4.7 percent and 1.2 percent, respectively, while Cathay Pacific Airways Ltd. fell 2.7 percent. Shares of Shanghai Jin Jiang International Hotels Group, owner of France's Louvre Hotels Group SAS, declined 6.3 percent in Hong Kong to HK$2.84.
Saturday's attacks, which killed 132 people and injured more than 300, come at a time of surging demand for travel and leisure services among Asia's growing middle classes. The impact on Chinese tourism to France could last as long as a year, with many travelers likely to cancel or change trips to Europe generally, China International Capital Corp Ltd. said in a research note Monday.
"There will definitely be a negative psychological impact in the short term in tourism-related sectors," said Zhang Qi, a Shanghai-based analyst with Haitong Securities Co. "Airlines are particularly affected."
All Safe
China's National Tourism Administration reported that all 1,299 Chinese tourists staying in Paris were safe as of Saturday, CICC said in its note. Still, Xu Xioalei, chief branding officer of Aoyou.com, an online tour agency under China Cyts Tours Holdings, said clients have been asking if they can switch to European destinations other than Paris. 
The attacks "may have a big impact on the city," Xu said via Wechat.
A spokeswoman for Air China said all flight operations to Paris were proceeding as normal, but the airline was allowing passengers to change their tickets free of charge. Qantas Airways Ltd. spokeswoman Sharna Rhys-Jones said the Australian airline also was allowing customers to reroute or reschedule flights to Paris, which go through Dubai.
China Eastern, China Southern and Cathay Pacific did not respond to requests for comment.
Travel Warnings
Hong Kong issued an amber outbound travel alert for France, but local agencies said they hadn't rescheduled any groups heading for the French capital. Simon Ma Sai-man, deputy general manager of Wing On Travel Holdings Ltd., said the company hadn't received any requests to cancel planned trips to Paris.
"Compared with the explosion in Bangkok this August," Ma said, referring to a bombing at a popular temple in the Thai capital, "Paris is well defended after the attack." 
Jason Wong Chun-tat, general manager of Hong Thai Travel Services Ltd. in Hong Kong, said the agency doesn't have any groups of travellers entering Paris right now, and would keep an eye on possible travel restrictions when some of their groups are due to fly out of Paris in a few days.
JTB Corp., Japan's largest travel agent, canceled all tours to France since Saturday and plans to restart them Tuesday. Customers who booked through Nov. 20 can cancel without penalty, spokeswoman Eri Yokoyama in Tokyo said. "A lot" of tours and people had been affected, she said, but wouldn't specify how many.
Cancelled Honeymoons
South Korea and Taiwan also issued travel alerts after the attacks. Hana Tour Service Inc., South Korea's biggest travel agent, said that of some 50 clients planning to go to Paris for honeymoons over the weekend, about 20 had cancelled. Some switched to other European destinations instead, the agency said in an e-mailed comment.
Still, only about 7 percent of the 500,000 or so people that book travel with Hana Tour in a month head to Europe, the agency said. China, Japan and other Asian countries are far more popular than Paris with Korean travelers, according to Hana Tour.
Chan Brothers, a Singapore travel agency, said it hadn't received any cancellations for forward bookings to Europe. Some customers had expressed concerns, but were taking a "wait and see" approach for now, the agency said in an e-mailed response to Bloomberg.
— With assistance by Clement Tan, and Kyunghee Park
Before it's here, it's on the Bloomberg Terminal.
LEARN MORE